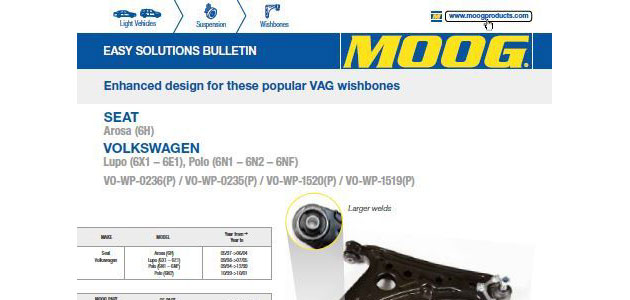 Federal-Mogul Motorparts, a division of Federal-Mogul Holdings Corporation (NASDAQ: FDML), has released its latest MOOG Easy Solutions Bulletin (ESB), detailing a common issue found with Volkswagen wishbones for vehicle applications including the Lupo and Polo models. The steering and suspension specialist has redesigned the component to solve the issue and improve durability.
"We are constantly developing our products to improve the MOOG range, enabling us to offer longer lasting, more cost effective components for our customers," said Jonathan Allen, Marketing Manager, Federal-Mogul Motorparts.
"Our ESBs provide workshops with an added level of technical support and instant access to additional product information. It enables our customers to be more competitive in the market place."
MOOG identified that the bushes were wearing prematurely due to excessive movement within the wishbone's bush housing. To solve the problem, the vertical bush has a new design that features an enhanced rubber compound, significantly improving the lifetime of the parts. Additionally, larger welds are used to strengthen the joint of the bushes to the arm.
The models affected by these issues include: Volkswagen Lupo (6X1-6E1) 05/97>06/04. Volkswagen Polo (6N1-6NF) 09/94>12/99, and Polo (6N2) 10/99>10/01.
MOOG provides its customers with support and information on common issues found in the aftermarket through its ESBs. The free document highlights inherent design issues with the original part, such as component fatigue or fitting issues, and the problems they can cause both the technician and vehicle owner.
The document outlines the changes MOOG has made to its own aftermarket products to rectify these issues and make products easier to install.
To find specific parts or download this ESB and previous versions, visit www.moogproducts.com where you can also access the bulletins in multiple languages.