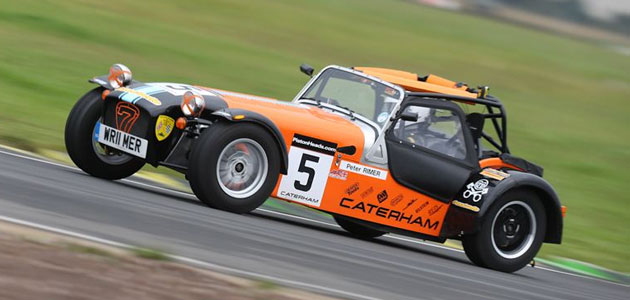 Millers Oils has signed its biggest deal in its 127 year history by becoming the chosen lubricant supplier for Caterham Cars. The partnership, which covers the manufacturer's road-going and motorsport vehicles, sees the British oil developer provide a range of advanced lubricants including engine and transmission oils.
"Having worked with Millers Oils during the 2014 motorsport season, we are very impressed with the results we have seen and the technical support they provide," says George Campbell, Engineering Development Manager, Caterham. "Their dedication to research & development is exceptional and we are delighted to be working so closely with them on our road vehicle applications."
The technical data and feedback from Caterham provides valuable insight into the performance of the lubricants across a variety of applications, helping to guide Millers Oils' development programme. The lubrication analysis Millers Oils conducts at its recently upgraded £500,000 R&D facility, enables Caterham Cars to monitor the performance and durability of its vehicles' drivetrains and powertrains, helping to guide component design.
The new development demonstrates the industry's growing recognition of Millers Oils ability to develop innovative products, such as its Nanodrive range, that provide benefits to both the OE and aftermarket sectors.
Originally developed for motorsport applications, Millers Oils' award-winning Nanodrive range has received great acclaim since its launch for road-going applications in 2013. Nanodrive has been proven to reduce friction by up to 25 percent and release up to 5 percent more horsepower from the engine while maintaining excellent oil film durability. This combination of reduced friction and increased film strength provides great benefits, improving power and efficiency, helping increase the longevity of engine and transmission components and reducing emissions
"We're delighted to develop our technical partnership with Caterham, it's a great testament to our depth of expertise and product quality," says Jason Lavender, Business Development Manager for Motorsport and Classic, Millers Oils. "Last year we demonstrated our product capacity and performance in a motorsport environment and it is thanks to this that we have built up a great relationship with Caterham. This year enables us to demonstrate our abilities across both OE and motorsport applications. Working this closely with a car manufacturer allows us to increase our development of products that provide innovative solutions to common automotive issues."
The partnership will also see the two companies produce co-branded 5w30 and 5w50 engine oils.