---
Stuart Bayne has completed his marathon charity ride through New Zealand.
---
Stuart, Sales Manager North for NGK Spark Plugs UK Ltd, had planned a 2100km+ (1304 miles) ride to raise funds for the Down's Syndrome Association (DSA), but had to alter his route after two recent simultaneous major Earthquakes, which struck north of Christchurch, forced him to take a more arduous route.
Stuart (53) set off from Bluff at the southern tip of New Zealand on December 4, travelling through the South Island and crossing Cook Strait on a ferry before continuing through the North Island, ending at Cape Reinga, the northern-most part of the country, on December 22.
However, his journey was not without incident as unexpected road closures put him in some hazardous situations.
He said: "My bike and legs are still in surprisingly good shape, but I have had an A+E drama, when swept off my cycle last week by a passing truck on the detour road due to the recent earthquake. Bit of drama and a sore knee otherwise all tickety boo!"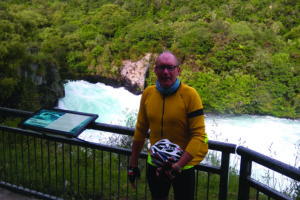 Stuart last year completed an 1100-kilometre (683-mile) sponsored cycle ride through Europe to raise more than £17,000 for DSA and is confident he has raised even more money this year.
Ignition specialist NGK Spark Plugs (UK) Ltd and NGK Europe were once again main sponsors of his charity ride with a number of NGK customers, colleagues and friends also pledging funds.
Stuart said he is extremely grateful for the level of support that he has received, not only from NGK UK and NGK Europe, but also from many of the company's customers in all industry sectors, from automotive to horticultural.
Marko Wowczyna, Automotive Director, NGK Spark Plugs UK Ltd, said: "On behalf of everyone at NGK and his friends and colleagues from within the industry I would like to congratulate Stuart on his magnificent effort to raise money for this fantastic charity."
---