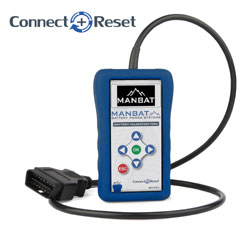 To celebrate the start of the 2014 FIFA World Cup in Brazil this June, Manbat and VARTA have joined forces to help their customers enjoy the tournament and make money to boot.
The VARTA Battery Champion competition combines battery training and increased market knowledge, with a sales incentive to provide customers with a great opportunity to benefit from the world's most famous sporting competition, whilst also having fun.
The competition comprises six knowledge-building modules or 'rounds', which feature a short film that explains a specific area of battery technology or VARTA product information and is then followed by five multiple-choice questions.
Round 1 introduces the learning programme and the launch of the new VARTA Blue Dynamic EFB and Silver Dynamic AGM Start-Stop batteries, as well as the VSSP 2.1 service tool.
Round 2 addresses the VARTA brand and its brand values.
Round 3 looks at technology and how VARTA is keeping pace with the requirements of vehicle manufacturers, the market and its customers.
Round 4 covers selecting the right battery for the right customer and how each product range is designed for each customer segment.
Round 5 concerns the Start-Stop revolution that will influence the industry's future and what preparations need to be made.
Finally, Round 6 examines VARTA's Start-Stop Service Program for battery service in the workshop and new business opportunities it provides.
"We are encouraging Manbat customers that supply VARTA to enter this fantastic competition and take advantage of the excitement that will inevitably surround the tournament," said Myles Pemberton, Marketing Manager for Manbat. "The objective is to earn as many points as is possible, and as the old motto goes, points make prizes!
"On sign up, they will earn 5,000 points and with every question in each of the six rounds worth 1,000, it is possible to earn 35,000 points before a single battery is purchased. However, with Black, Blue and Silver Dynamic battery purchases worth 1,000 each and Blue Dynamic EFB and Sliver Dynamic AGM worth 2,000 and 3,000 points respectively, some serious points totals are achievable.
"On reaching the 35,000 target, they will win a tournament football, at 45,000 a black trophy and a tournament football, at 55,000 a blue trophy, national scarf and tournament trophy and 65,000 a silver trophy, an original football shirt, national scarf and tournament football.
"As well as these championship points and prizes, garages can also enter the 'Workshop of the Month' competition for the chance to win a brand new VSSP 2.1 service tool and battery tester. So all in all, this is a massive competition with some really exciting opportunities and we really encourage our customers to get on board by visiting the VARTA website.