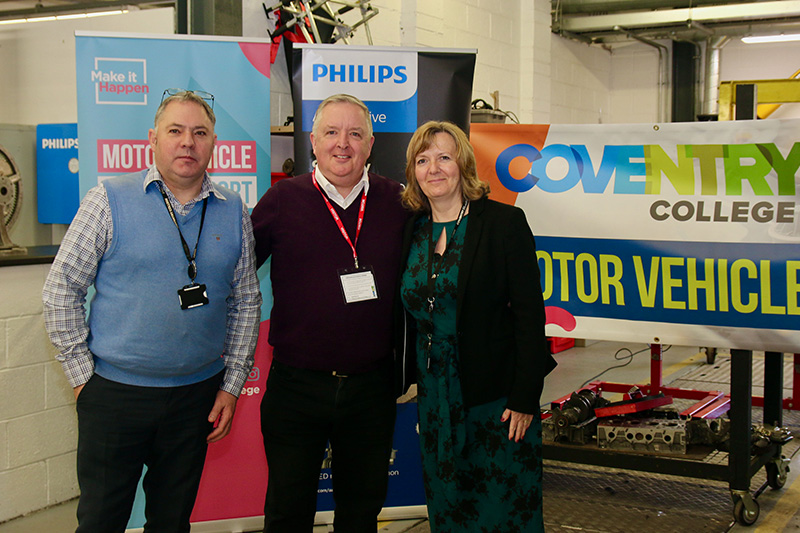 ---
Lumileds has partnered with Coventry College's Motor Vehicle Department for the supply of Philips vehicle lighting and workshop equipment.
---
Coventry is reportedly seen as one of the UK's main centres for vehicle manufacturing and general automotive business, so it is said to be fitting that Lumileds has been able to forge a link to the next generation of automotive technicians and engineers through Coventry College.
Lumileds' UK Country Manager, Richard Armstrong, explained: "As soon as you walk into the automotive department of Coventry College you are struck by how impressive their facilities are. The set-up is really first rate – better, in fact, than many workshops I have visited – and the enthusiasm for the industry shines through from those involved in both administering the college and those actually training our future workshop technicians. As someone raised in the city, in a family steeped in the industry, it is really impressive to know that Coventry is still looking to a top-level automotive future and Lumileds is delighted to be able to help this come about, with our supply of Philips lighting products into the college."
Lumileds will be supplying bulbs from Philips' range of headlights, positional and interior lights, as well as products from the Philips Xperion LED Inspection lamps range.
Richard continued: "There are some great automotive faculties around the UK and developing skills to bring on new talent is vitally important to the future of our industry. Lumileds is therefore setting up a new structure to help both the educational establishments and the students themselves, to give them the chance them to use top level product and to understand why quality counts in all aspects of the industry – in both product and service."
---