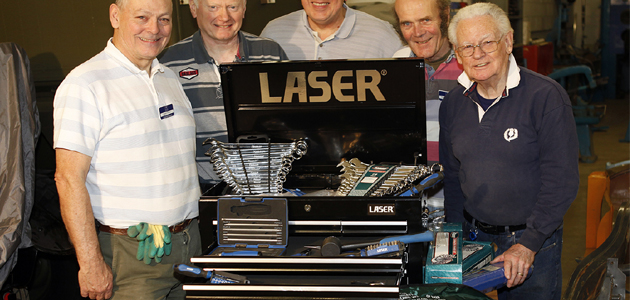 Laser Tools has assisted the Heritage Motor Centre with their 'Museum Collections Centre initiative' by contributing tools and equipment to be used for the refurbishment of cars and displays at the new centre. 
It is the aim of the British Motor Industry Heritage Trust to make their collection more accessible; normally around 180 British motor cars are on display at any one time at their Gaydon museum but there are another 120 or so in reserve. A new Heritage Lottery Fund supported project has started to build a new Museum Collection Centre to hold the reserve collection and make these cars available for public viewing.
This new project is staffed by a group of 50 volunteers, their initial task to carry out a survey of the cars in store, collecting data about the condition of those vehicles. They will then take a few cars that have been in store for a long time and return them to a standard where they could be displayed in the museum. The volunteers have now started their first restoration — a sectioned MGA Twin Cam display chassis — and have been supplied with a comprehensive set of new tools and equipment by Laser Tools to enable them to carry out their task.
Laser Tools' Managing Director, Martin Smith said: "We are delighted to be assisting the Heritage Motor Centre with the new initiative as we are great supporters of the Heritage Trust and its aims. We are looking forward to seeing the results that the very enthusiastic volunteer team are going to produce."