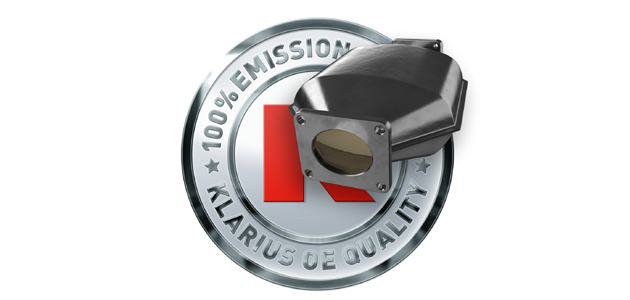 Exhausts and emissions product supplier, Klarius, has today issued the following statement regarding the sale of its range of Type Approved Catalytic Converters. It said:
'All Klarius distributors, resellers, garages and end customers can be totally confident that every Klarius product is made to exacting quality standards and meets regulatory requirements. There is no issue with any item previously sold or currently held in-stock. The entire Klarius range of cats available today is certified, Type Approved and fully legal to sell and use. The Klarius range represents a cost competitive product at a premium quality standard; it always has and will continue to do so in future.' 
The statement comes in response to this week's notice from US-based  Environmental Catalyst Technology (ECT) – a supplier of emissions components used in the manufacture of Type Approved products – that it has started legal proceedings to ensure that potentially non-compliant products don't fall into aftermarket hands. The statement said:
'Environmental Catalyst Technology, (ECT) has retained the law firm of Browne Jacobson, LLP in an effort to restrain Klarius Products Ltd (Klarius) from continuing to produce, sell, distribute and encourage others to sell Catalytic Converters bearing ECT homologation codes which have not been manufactured by ECT. 
'The specific homologation codes were withdrawn by ECT last year because the approved products have not been distributed or sold by ECT in the EU since 2012. In an effort to limit damages that may result from the continued distribution of these products, ECT has officially notified Klarius and all relevant government regulatory agencies of its cease and desist demands.  Please could Klarius customers assist ECT and the market by ceasing to sell any of this product.'
Commenting further on the issue, Klarius has moved to further educate the market about the requirements of Type Approved products as well as responding to claims made against the company by other key suppliers. It said:
'Proof that aftermarket automotive components meet the same quality standards as those of an original OE component and therefore fit and perform to the same standards is vital for the industry. If product quality is not consistent then customers will turn away from independent garage chains and individual garages and pay the premium to take their vehicles to the official retailer. This is the reason why Klarius has consistently campaigned for type approval of direct replacement parts.
'Since the law changed to make it illegal to sell cats for vehicles registered after the 1st March 2001 and for any vehicle fitted with a DPF without a valid Type Approval certificate, Klarius has always manufactured cats and DPFs that have exceeded the emissions standards required by Type Approval rules.
'This even applies to cats that technically do not need to meet these standards, just to be sure that the products meet a high standard of quality. Every Klarius cat and DPF required to meet Type Approval is clearly marked with the Type Approval serial number specific to that model.
'Klarius has been able to establish that all the cats it has supplied are fully legal to sell and that the Type Approval issue raised by its competitors was a legacy issue. The entire product range is now fully available.
'Presumably the companies that have expressed concerns about Klarius have reviewed their own ranges to make absolutely sure there are no issues whatsoever with Type Approval certification and also make sure that their products all contain an ideal level of the expensive precious metal loading which makes catalysts actually work?
'Klarius has opted to give those companies the opportunity to stop effectively damaging the reputation of the industry as a whole by spreading inaccurate information and support Klarius's long standing position of campaigning to raise quality standards in the aftermarket and protect the future of the entire industry.'