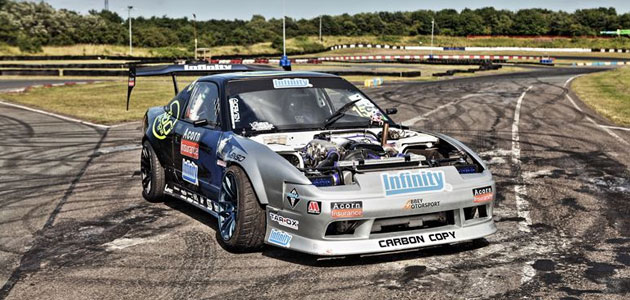 Millers Oils supported driver, Steve Biagioni, was recently invited to compete in the prestigious Monza Rally, becoming the first drift driver to do so. This opportunity followed a fantastic season for Biagioni who won the title of 'King of Kings' Drift Champion in Malta, placed third in the 2014 British Drift Championship and fourth in the King of Europe Championship. Biagioni's technical supporter, Millers Oils, provides the benefits of nanotechnology through its advanced Nanodrive® lubricants, which help reduce friction, increasing available power and improving durability.
This year's Monza Rally saw Biagioni compete with the best, including; nine-time MotoGP World Champion, Valentino Rossi, rally and gymkhana driver, Ken Block and Formula One World Champion, Lewis Hamilton. The remarkable event is the only one to use the Historic track's banking, which Formula One ceased racing on in 1961. The rally consisted of nine stages, each six miles in length, using both the historic banking and the modern track. The gruelling competition saw Biagioni's Nissan S13 200SX put through its paces, and requireed the installation of a new fuel tank to cope with the change in demanding environments.
"To be the first drift driver to be invited to compete in the Monza Rally is exhilarating," says Biagioni, Drift King of Kings Champion 2014. "Beforehand, we discussed with Millers Oils how the change in racing environments would affect the demands on the powertrain and lubricants."
The Nissan, which is prepared by Abbey Motorsports, runs Millers Oils' Nanodrive® 10w60 NT engine oil and Nanodrive® CRX 75w140 NT in the rear differential and Samsonas gearbox. The nanotechnology utilised in Nanodrive® oils reduces friction without compromising film strength, reducing parasitic power loses, fuel consumption and wear whilst improving power and torque. This reduction in friction helps drift drivers retain durability in an environment that is exceptionally harsh on components, while at the same time releasing additional power from the engine to provide a competitive edge.
"It's great to see our supported drivers doing so well and competing in events outside their comfort zones," says Jason Lavender, Business Development Manager for Motorsport, Millers Oils. "Through our motorsport support scheme we're able to provide the lubricant expertise and products that help drivers improve durability and increase power, while further developing our technologies. We're delighted with Steve's results this year."