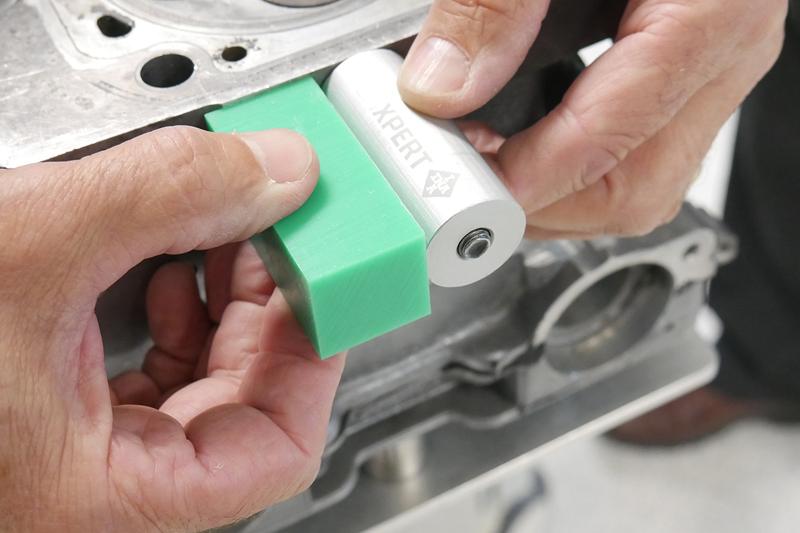 ---
Schaeffler has revealed that the INA VAG stud fitting tool has now been made available in the REPXPERT Bonus Shop.
---
Previously only available at INA training sessions and REPXPERT Academy events, the tool is said to be essential for technicians wanting to carry out timing belt servicing on many popular VAG diesel applications.
INA Product Specialist, Tim Adams, said: "Extreme care needs to be taken during tensioner stud removal in these vehicles, as a steel stud is used to secure the tensioner to the alloy head, which can cause problems when installing the new stud. After receiving feedback from mechanics that had experienced issues, we designed and produced the INA Stud Tool to help ensure an accurate stud installation.
"The REPXPERT programme provides mechanics with the essential technical information they need to complete high-quality repairs using Schaeffler products. Members can also redeem the points found in LuK, INA and FAG boxes, which they can use to access more advanced information for all products and systems, as well a range of clothing, equipment, tools and POS.
"The stud fitting tool is therefore a natural addition to the bonus shop and we recommend technicians invest the points to add it to their collection of vital special service tools."
Stud Tool background information
VAG recommends replacing the stud – either a M8 fine thread or a stepped M8 to M10 stud – at the timing belt service, which INA includes in its timing belt kits as part of its complete repair solution ethos. However, technicians must be extremely careful when removing the stud, and check for any aluminium deposits which may have been pulled out of the thread during the process.
The stud hole should be thoroughly inspected for possible thread damage or contaminants, such as Loctite or liquid metal-type materials, as these can render the thread unusable, with a professional thread repair the only recommended solution.
---
Get the tool from the REPXPERT Bonus Shop
here
.