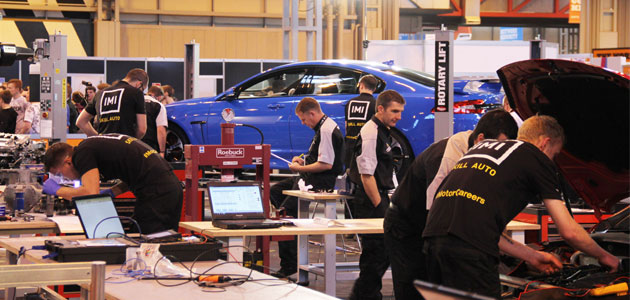 The 2014 IMI Skill Auto competition has concluded in style, in front of 75,000 visitors to the UK Skills Show at the Birmingham NEC. Eighteen competitors, competing across the three work streams of Autorefinishing, Autobody and Autotech, fought it out for the right to be called best automotive apprentice in their field. Their knowledge and skills were tested to the limit as well as time management skills, procedural efficiency and health and safety compliance – not to mention their ability to cope under the pressure of working in front of thousands of NEC visitors.
Key companies supporting the competition included Wurth, Morelli, GTG and Car-o-Liner. The Skill Auto stand also featured vehicles provided by VW, Kia, Jaguar Land Rover and Toyota.
Skill Auto Winners:
Autotech gold medal winner – Callum Byrne, Peterborough Regional College and Chapel Motor Repair LTD.
The Autotech competitors were assessed on a variety of mechanical and electrical tasks which represented the wide range of vehicle repairs faced by a busy garage. Mechanical tasks included a transmission rebuild and an engine strip and inspection, leading to the accurate replacement of faulty parts within manufacturer tolerances. Electrical tasks included a complex, multi level engine diagnostic challenge requiring the use of multiple diagnostic tools and a combined electrical circuit fault finding task featuring new and older technology systems on two vehicles. 
Autobody gold medal winner – Stuart Davidson, Newcastle College and Thompson Accident Repair Centre.
Stuart Davidson followed up his Body Repair Apprentice of the Year award at the IMI Outstanding Achievers Awards with an outstanding performance to win Skill Auto gold in his category. Competitors faced tasks including panel repair and replacement, realignment of a body shell, as well as an epic 6 hour part-panel replacement task involving the removal of front pillar, centre pillar and sill, before replacing them with a variety of welding and bonding techniques. 
Autorefinishing gold medal winner – Blake Robey, Chesterfield College and Sharp Customs.
Autorefinishing competitors were challenged on tasks which covered the full spectrum of skills necessary to work in a high end refinishing business. These included everything from plastic panel repair, base coat application and clear coat finishing, to the application of a two stage pearlescent and the marking out and painting of custom designs. They were also tested on their ability to diagnose and repair problems with painting equipment.
Speaking after the show IMI Skills Competition Manager David Massie commented: "The 2014 Skill Auto competition final has been our best ever. The industry support we have received this year has been unbelievable and has allowed us to put on a great show for the public, as well as a challenging and exciting competition for the apprentices involved. Almost all the finalists this year were new to the competition, but they were quick to show why they are to be considered the best automotive apprentices in the country. I'm sure every one of them will go on to be leaders in the industry."