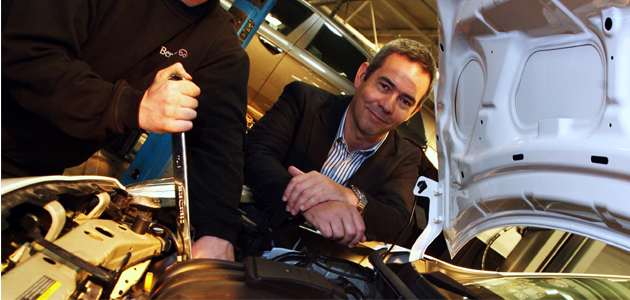 Leading North East automotive equipment supplier Gott Technical Services is continuing to maximise the potential of independent garages, after providing an additional two in the region with brand new equipment, tailored to the individual client's needs.
The company, also known for its work with a number of larger motor retail groups, offers state-of-the-art maintenance equipment and space solutions to the independent garage sector of the industry.
Gott Technical Services has recently renewed essential equipment at Motorcare Alnwick Ford, installing a full MOT bay to increase the workload capacity and allow better access to the workshop.
James Pattinson, Gott Technical Services equipment and toolings advisor, worked closely with Motorcare Alnwick's managing director Bryan Easton to ensure every stage of the planning and installation met the desired specifications.
James said: "The equipment in place had served its time, reaching the point where it was becoming beyond economical, and the bay wasn't compact which limited access.
"As with a number of independent garage projects, the main aim was to put a design in place that optimises productivity within a typically smaller space, while also minimising the impact of closure to the garage.
Bryan said: "We had a strict schedule in which we needed the work to be done, every day we are unable to MOT affects trade. We began consultancy with James in September leading up to the project and it was decided that we would close mid-November for just four days whilst they installed the new equipment.
"Everything was completed on time and the result was exactly to specification so we couldn't have been happier with the finished product. We received consistently thorough and hands-on service from James and Gott's engineers at each stage of the process."
Most recently, Gott Technical Services transformed a Newcastle storage unit into a fully functional service centre including three Rotary two-post lifts for a new garage, Regent Autos, which opened in February.
James concluded: "For smaller businesses, the decision-maker has to take a large leap of faith and trust that we can deliver on time and to specification. It's therefore testament to our team that the likes of Motorcare Alnwick, Regent Autos and G.K. Jackson & Sons in Morpeth – who we completed a full re-fit for last year – look to us to carry out the work. As a core value of Gott's, we hope to continue to build these important relationships."