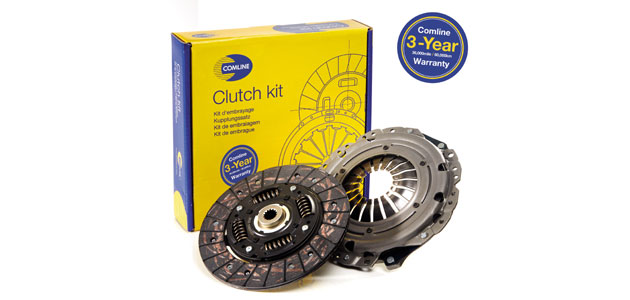 At home and abroad, Comline is a brand that continues to make waves within the aftermarket; in fact, Comline is currently one of the fastest growing automotive brands in Europe. Whilst perhaps best known for its range of filters, the brand continues to expand across multiple product categories and the latest category in line for development is clutch kits.
Comline is setting its stall out to become a major player in the clutch kit category and has big plans for its product range. The brand recently announced the introduction of 70 new numbers to range and will follow this with an additional 150 new references throughout the course of 2015. By year-end the Comline clutch kit range will top 450 part numbers but the brand is quick to point out that quantity and quality will very much go hand-in-hand. Staying true to its brand ethos, every clutch kit number is being developed to provide consistent, reliable performance whilst also delivering genuine value-for-money for the aftermarket.
Comline Sales & Marketing Director, Malcolm Rosher, comments: "The development of our clutch kit range is another exciting step forward for Comline but we're always mindful that product development stays true to our brand philosophy. Each part number has to tick the box in terms of quality but must also offer the value that enables aftermarket businesses to be profitable. This is what Comline stands for and this is what our customers can expect from our range of clutch kits."
In addition to bolstering its range, Comline has also announced the introduction of a new warranty policy which will underpin its entire clutch kit range. Each part is now covered by a 3-year (36,000 miles / 60,000 km) warranty designed to reflect the confidence that Comline has in the quality and performance of its product.
Malcolm Rosher states: "Our new 3-year warranty underlines Comline's quality credentials and is really the cherry on top of our clutch kit range. Undeniable quality, genuine value, growing coverage and a 3-year warranty really does make Comline clutch kits a hugely attractive proposition."
With an enhanced clutch kit range underlining its position as one of the brands to watch within the aftermarket Comline is once again geared for success.