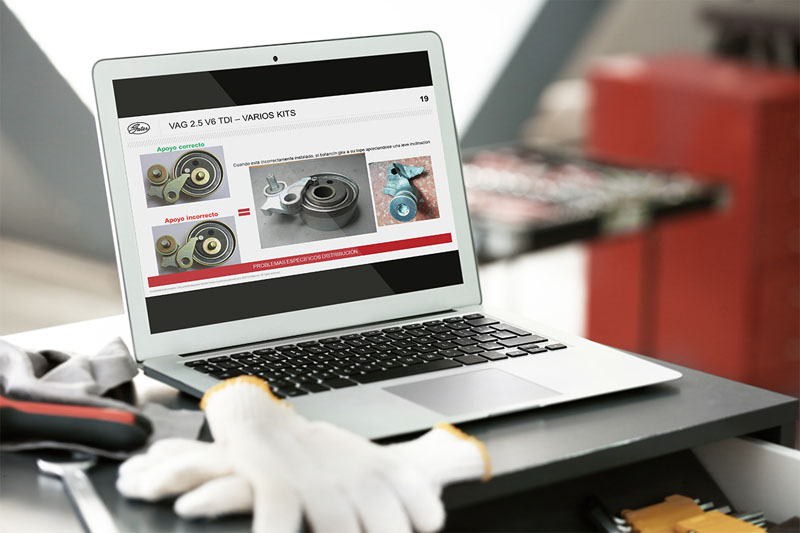 ---
Gates has increased the frequency of its live webinars to help mechanics return to the workshop with more product knowledge and a better understanding of all related technical aspects.
---
With so many workshop mechanics around the world at home right now, Gates believes that the true value of digital learning has never been more apparent.
The following webinar dates have been scheduled for English speakers. They will be delivered by Gates UK Training Specialist, Jason Ford, and are said to be appropriate for repairers of light commercial vehicles, car-derived vans and passenger cars:
Coolant: 24/04/20 – 10.30am, 45 mins
Hoses: 07/05/20 – 10.30am, 45 mins
Water Pumps: 22/05/20 – 10.30am, 45 mins
Gates webinars have reportedly become popular in recent weeks, with more than 600 registering for the most recent webinar session, held in Spain. Delegates who signed up also included students from colleges and schools.
The webinars are broadcast in several languages and their length varies from 30 to 90 minutes. Questions are raised via the chat function, or asked directly at the end of each session. The format is said to allow the flexibility to provide relevant and up to date information that can vary according to local requirements.
---
More webinars will be scheduled in the weeks to come. Visit the
Gates TechZone
to get an overview of all upcoming webinars.