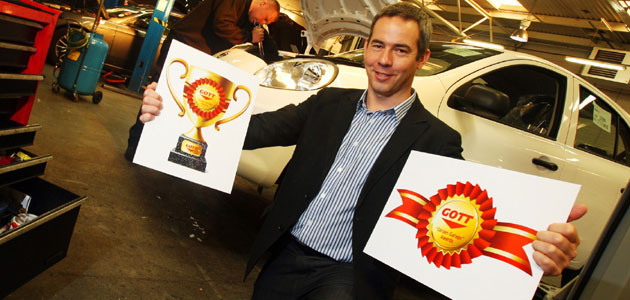 Gott Technical Services has announced the winners of its second annual Gott's Golden Garages awards – designed to recognise future talent and best practice throughout the automotive sector.
Towards the end of 2013, the family-run business called for workers in the trade and customers to nominate a garage or an individual employee for excellent service in maintenance, management and training across the North of England.
After receiving a number of entries across the six categories, Gott Technical Services director Ian Gott and his team selected the winners who stood out from the rest of the competition.
Dean Mavin of G.K. Jackson & Sons, based in Morpeth, was named Best Technician for his 33 years' committed service to the independent garage. The nomination from his colleagues praised his 'bright-eyed and bushy tailed' persona and his cracking Elvis impersonation.
Jennings Washington took home two of the coveted titles with June Appleyard securing top spot as Best Service Manager for her positivity and performance, and Jade Tiffin winning Best Team Mascot for her bubbly personality and ability to motivate – both of whom received three nominations each.
Two rising stars were also recognised in this year's competition. Stephen Scott was awarded Star Student of the Year for the improvement he has made at Gateshead College, which has continuously impressed tutors, and young industry newcomer Orin Rowe was awarded Apprentice of the Year.
Last year, Orin came first place in Gott Technical Services' competition to design a new tool for the workshop while studying at Gateshead College and as a result, completed a two week placement at a Benfield Motor Group dealership. He has since taken up the role of a full-time technician at mobile body repair specialist ChipsAway.
Best Overall Garage – a category that was open to businesses of all sizes – went to Benfield Toyota and Lexus Leeds, for an increase in business growth percentage attributed to the entire team's effort.
Gary Quinn, Service Manager at Benfield Toyota and Lexus Leeds, said: "We were really pleased to find out we'd picked up the Best Overall Garage title. It's testament to all of the customer service staff and the technicians that we have working behind the scenes, and the winners' day will be a well-deserved reward for them."
All of the winners are set to take to the karting track this summer as part of an activity prize day where they will be presented with their awards and certificates.
Gott Technical Services director Ian Gott said: "The standard of applications this year has set the bar high, and we found it difficult to choose individual winners. Each of this year's winners has shown consistent hard work, dedication and a passion for their field of work.
"Gott's Golden Garages has once again been a highly successful competition, recognising the wealth of talent that exists in the North of England's automotive industry. We're look forward to celebrating with this year's winners, and continuing the annual search to find the very best industry talent."