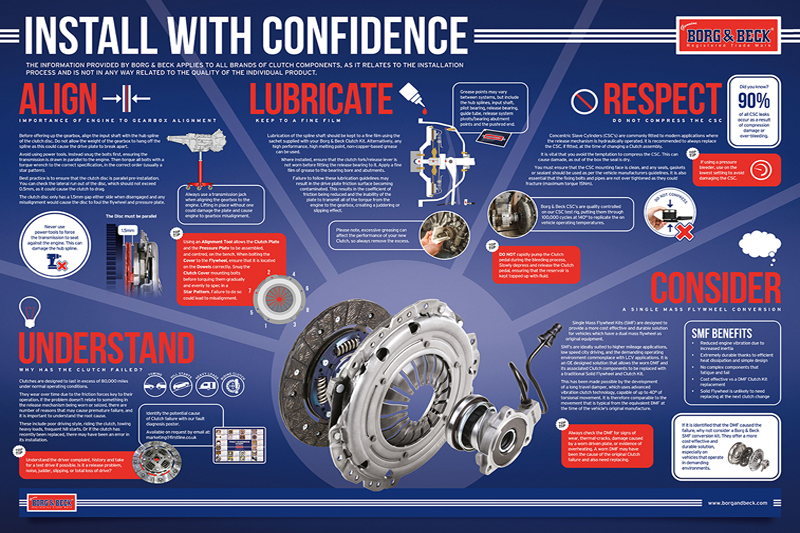 ---
First Line has launched a campaign to help educate the importance of best practice clutch installation, designed to support independent garages and parts distributors.
---
Key aspects will be 'education', 'install with confidence', 'identifying clutch failures', 'correct alignment' and 'promoting choice'.
Under its Borg and Beck brand, the clutch specialist has introduced a technical poster, outlining best practice and top tips for clutch fitment.
The poster will aim to remind technicians to follow best practice during clutch replacement. It is a visual guide highlighting key parts of the process that if not followed, could lead to an avoidable warranty claim, which if it is due to an installation error or driver abuse, won't be covered.
Jon Roughley, Global Marketing Director, explained: "Our Borg & Beck products are hugely popular among factors and their technician customers and we're working to support the aftermarket in the provision of extensive information that will add further confidence.
"For technicians, the Borg & Beck Clutch range offers quality assurances, technical support and ease of fitment, ensuring a hassle-free replacement. With a UK technical test facility and technical helpline, the emphasis is on supporting the installer in an efficient manner. We are committed to educating the industry and are proud to announce that we have just introduced a fantastic poster highlighting best practice for clutch installation."
---