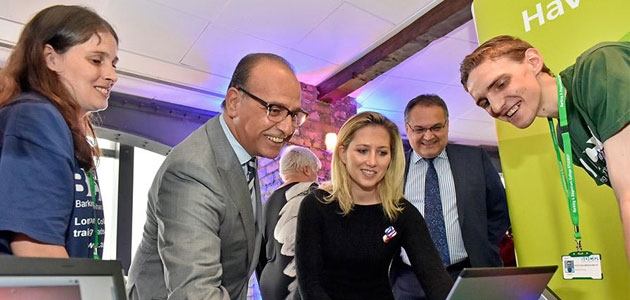 The Skills Show will take place at the NEC Birmingham from November 13th – 15th 2014 and provides a wide range of hands-on experiences for visitors to inspire them to explore skills, further education and Apprenticeships, helping them to gain advice on how to take the next step into the world of work. Free to attend, the show is packed with ideas, advice and opportunities to help young people decide which route to take into the world of work.
Visitors will have the opportunity to try over 45 skills for themselves in the interactive "Have a Go" experiences across the show in careers ranging from hairdressing to engineering, hospitality to plumbing. Focused on five skills areas (the built environment, cultural and creative arts, professional services, engineering and IT and business administration) these experiences will give young people the chance to find out what they are good at and motivate them to find out more about the world of work. Expert careers advisers will also be on-hand to offer advice on job opportunities, qualifications and training.
Throughout the show, professionals from a range of industries will give inspiring Spotlight talks providing unique real-life insights into a variety of careers and training routes ranging from aeronautical engineering to beauty therapy.
The show will also host the WorldSkills UK national competition finals, in more than 60 disciplines. The competitions play a vital role in raising skills standards among young people and provide an opportunity for competitors to challenge themselves against the best in the country.
Theo Paphitis, Patron of The Skills Show, believes the event can help young people find their vocation. "As a parent myself, I know how hard it can be to provide the right advice and guidance for children as they reach the point of choosing their careers. The Skills Show provides a unique shop window for visitors to see the opportunities that vocational training and skills can offer, and the chance to actually 'Have a Go' at a wide range of skills which will inspire and inform the choices that young people make about their futures. From my experiences at last year's event, I know how energising it can be to discover something that you are really good at and would recommend the event to anyone who is considering what their next step might be – it's a fun day out as well!"
For more information, and to book your place, please visit www.theskillsshow.com and follow us on Twitter @SkillsShow for news and updates.
To reach more young people across the country, The Skills Show on the Road is a unique skills roadshow in partnership with National Express, which will be travelling nationwide from October 21st to November 8th. A specially fitted coach featuring interactive skills challenges will be visiting locations from Durham to Portsmouth, offering the opportunity to 'Have a Go' at a number of skills challenges across a range of areas. In addition, independent careers advisers will be on hand to provide information and advice, while the City & Guilds employer Speed Dating area will provide the chance to engage directly with local employers. Find out more about the route the roadshow will be taking by visiting www.theskillsshow.com/roadshow.