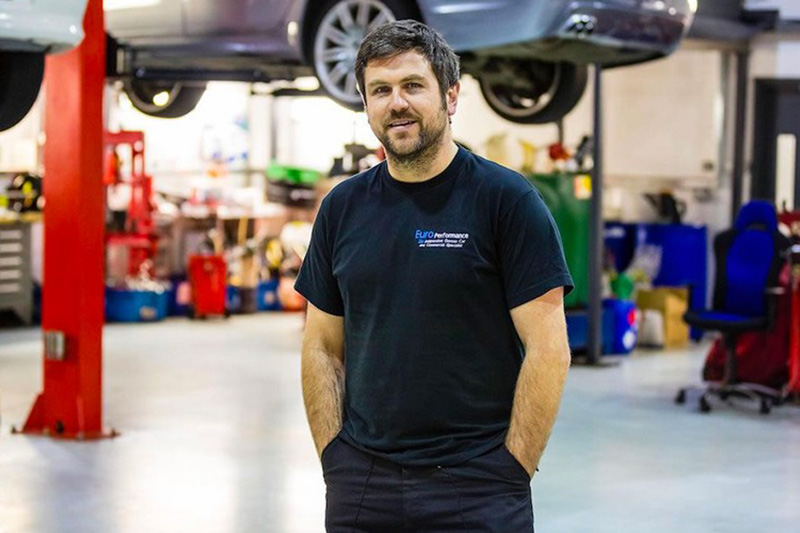 ---
Euro Performance has invested a six-figure sum in what it calls a 'significant workshop refit' to upgrade its nine lifts and equipment, as well as installing air-conditioning, flooring, a reception, meeting rooms and staff break out facilities.
---
Owner, Gareth Davies, said it's all part of his long-term business plan and to make life better for staff and customers.
The garage's revamp isn't just limited to its physical workshop presence. It has recently invested in a website, not only giving its online space an updated look, but to attract the work Euro Performance has identified as its most profitable.
Gareth said: "Even though we're right in the middle of the refurb, for the workshop it's business as usual. To add to everything that's going on, I also knew we needed a team of garage sector website specialists to partner with us and build a strong online presence.
"Whilst the virtual world is no less complicated than overseeing the garage re-fit, thankfully I found Jim and his team at Garage Services Online. What a game-changer they've been.
"Our new website and the bespoke technology behind it only took four weeks to produce. Within that time, I only spent an hour and a half briefing them. They have this way, almost like a recipe, of mixing exactly what you need with their expertise and coming up with something that's unique – and works.
"The increase in the number of calls and enquiries from the website is evident, even in the first month's analytics. But I don't need to look at those.
"As a business owner, you take risks and learn to trust your gut feeling. There was no financial risk here as their websites are paid on monthly subscription, but my gut feel to go with them was instant.
"The team at Garage Services Online are first-class consummate professionals; it takes a special skill set to understand what a garage needs and get it right first time."
George Phillips, Operations Director at Garage Services Online, added: "It's a pleasure to work with Gareth and ensure Euro Performance's online presence continues to be reflective of the business as it grows. We can't wait to see the new refit in September.
"Once you're on board with this team, the care and attention continues with the aftersales support. They're committed to making your website work head and shoulders above others and are definitely masters of their craft.
"If you run an independent garage or car repair business, these are the people you need."
---