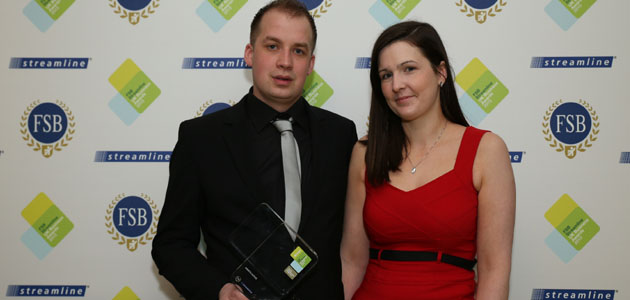 A young mechanic who battled dyslexia and put himself through adult education, has beaten hundreds of entrants nationwide to win the FSB Streamline 'Young Entrepreneur of the Year'.
29 year old Steven Armit, who runs Armits Autos in West Lothian, Scotland, was recognised at a national ceremony to celebrate innovation and success in small businesses across the UK. The award celebrates the achievements of directors under 30 able to demonstrate impressive business performance in the last year.
Steven's bodywork and specialist repair garage, started less than two years ago, began as a night-time service for mechanical work and minor body repairs, but began operating full time within two months. Within a year, the business has more than trebled in size, and has moved three times to accommodate a staggering growth in business.
He said: "I struggled through school and when I left, I could barely read. But I really wanted to start my own business so got myself on an adult learning course to improve my skills. I'm proof that anyone can turn their life around if they are dedicated, hard working, and prepared to be inventive and committed."
As well as repairing cars, vans and commercial vehicles, the business has also branched out to restoring classic and prestige cars. From endlessly trialing new products and ways of using materials, through to repairing rather than replacing where possible, Steven ensures that he provides an outstanding service which has seen his business boom in less than two years.