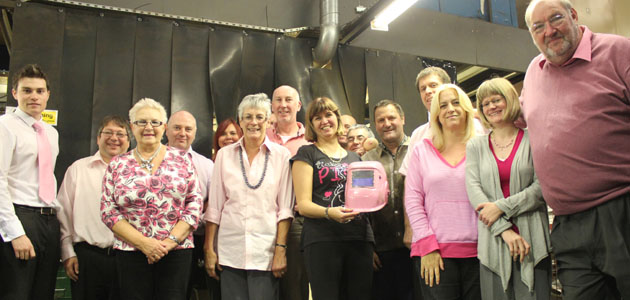 Colleagues at Denmead-based European Exhaust and Catalyst (EEC) have been 'going pink' in support of Breast Cancer Awareness Month.
Staff raised £250 by spending a day wearing pink clothing, baking and winning home-cooked pink treats in a pink-prize raffle and making donations for the charity Breast Cancer Care.
It was embraced throughout the organisation, including one welder choosing to spray his helmet bright pink for the day whilst manufacturing catalytic converters.
Paul Clark, Managing Director, commented: "It's important to raise awareness amongst our staff throughout the UK, and to make a positive contribution to an excellent charity. After seeing everyone embrace the spirit of the day, EEC has added to the donations made by staff to ensure we are making a difference."
The charity cares for over 50,000 people who are annually diagnosed with breast cancer, and donations help fund vital services, such as a helpline, support groups and work in hospitals.
You can find out more at Breast Cancer Awareness month at: www.breastcancercare.org.uk and about European Exhaust and Catalyst at: www.eurocats.co.uk