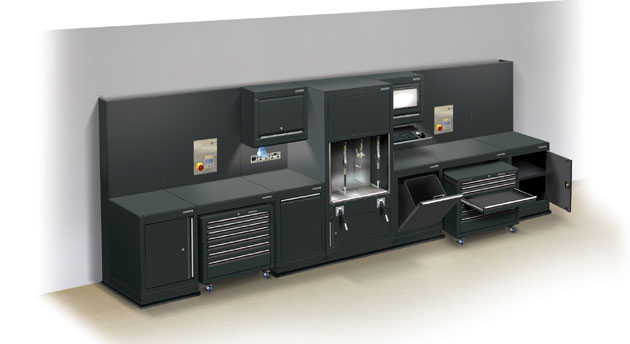 Design specialists Dura have installed a new paint plant at their Plymouth manufacturing centre. It will boost productivity by over 25%, helping meet growing demand for their workshop systems.
The £630,000 investment will increase speed and improve working conditions, whilst also saving on energy and raw material costs. The new Gema paint plant is environmentally too. Staff will no longer wear protective suits, or even masks, to paint products safely.
"It's a huge step forward for us," said Dura Managing Director Dominic Wishlade. "The paint plant truly is a revolution when you compare it with the spray booth we've been using for the past 18 years."
Paint wastage will be reduced to just 3%, thanks to automated sprayers and static-free plastic wall. Energy reductions are significant too; water for cleaning now needs to be only 35ºC instead of 60ºC. Paint colours can be changed in 10 minutes, making the plant agile enough for small batches and bespoke work.
The notable turn-around at Dura Manufacturing has seen employment double since Mr Wishlade bought the facility six years ago. Investment of over £3,000,000 in the last 4 years alone has included a €1,000,000 Salvagnini metal fabricating machine. The business won the Queen's Award for Enterprise in 2012.
Dura has already added another full time Engineering Designer at their Brackley head office and Mr Wishlade said: "We expect to create jobs, as we'll need more people to keep the machine fed with components to be painted."
Dura designs and produces workshop solutions for the world's most desirable automotive brands, and a growing industrial client base too. 2015 promises to be busy year with flagship projects for Jaguar Land Rover, Porsche and Mercedes.