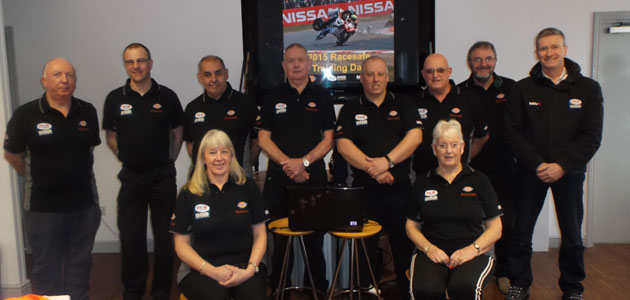 Racesafe is the official supplier to MSVR for the co-ordination and operation of the marshals and associated services for the British Superbike Championship and the FIM British Motorcycle Grand Prix and World Superbike events. The organisation is made up of nearly 1,000 marshals and medics, all of whom are dedicated and committed to helping to keep motorsport as safe as possible.
The polo shirts were worn by the training team for the indoor presentations at the recent training days with just over 100 new marshals in attendance in preparation for the 2015 British Superbike season.
John Proctor from Racesafe commented: "These training days are the first face to face experience the new marshals get of Racesafe. The professional image the branded team wears sets the standard.
"The indoor shirts form the perfect complement to the robust outdoor Dickies overalls and waterproof coats which we have been supplied with for our trackside activities. We are extremely grateful to Dickies for supporting us, by supplying the high quality coveralls and enabling us to stay warm and dry while we worked.
"Our members are proud to be part of Racesafe and linked with the quality of the Dickies brand through the partnership deal with British Superbikes."