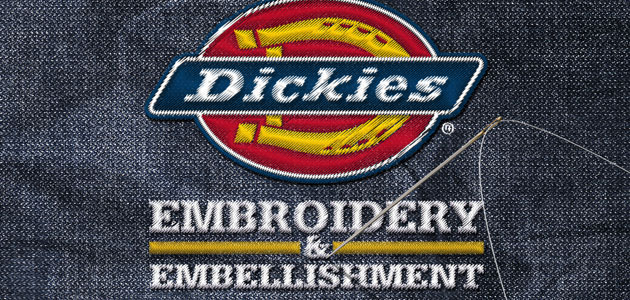 Dickies, the internationally renowned workwear brand, has over ninety years of integrity and excellence, making them a trusted global brand in full service workwear solutions.
Nothing states professional quite like embroidered workwear. Embroidered company logos or badges on work shirts, gloves, overalls and jackets provide an air of authority and quality.
Dickies will help achieve that professional look with its personalised embroidery service for all types of workwear. The Dickies embroidery team will also provide expert advice on the colour, size and placement of embroidered logos.
Professionally embroidered logos can be used to complement formal work trousers, shirts and uniforms, or can be used to polish off casual work wear, such as shorts, t-shirts and caps. Not only does embroidered workwear look professional, it also serves an important identifying and uniting purpose amongst employees.
Dickies offers a range of clothing embroidery services that include many multi colours to the exact design the customer requires. The company can also supply multi coloured transtats that are more suitable for embellishing waterproof products.
All Dickies need for the initial quote is an artwork sample of your logo and the garment requirements you would like customised. From here Dickies will begin work on your workwear embroidery request and ensure you have a personalised quote for your embroidered work clothing within one working day.
When you are happy to proceed with the order Dickies shall ensure you are fully satisfied with the sample provided of your embroidered logo/logos before proceeding to add the embroidery to your chosen items.