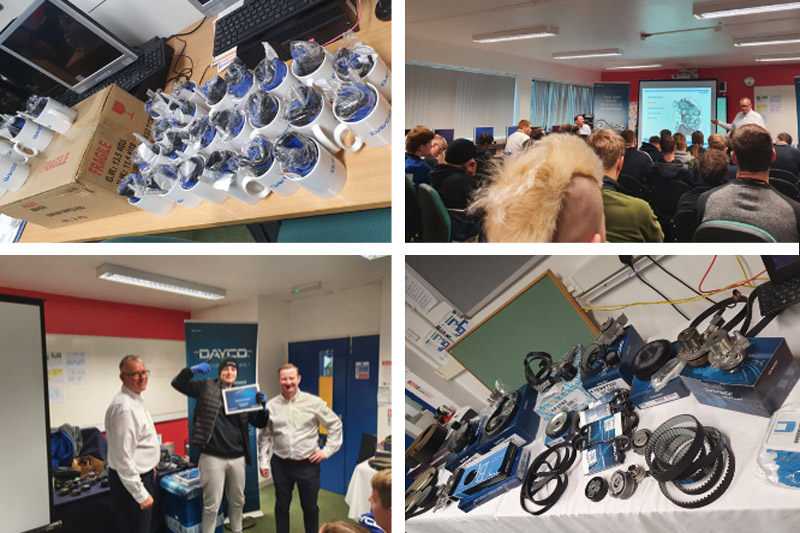 ---
Dayco has announced it has invested in the next generation of technicians by educating students still in technical college.
---
The company is already an advocate of technical training, which it undertakes for technicians via workshops arranged through its motor factor customers and at trade events, such as exhibitions and roadshows.
However, the company will now also be investing in the future and reaching students who are still in technical college.
Responding to a request from Thomas Barrett, Motor Vehicle Tutor at Tameside College in Greater Manchester, Dayco was asked to provide information and assist its second and third-year students.
Dayco sent its local Business Development Manager, Matt Driver and National Technical Manager, Glen Goldstone, to help them gain an appreciation of the technology and complexity of current power transmission systems.
Glen explained: "Although our training seminars, which cover auxiliary and timing system technology, problems and replacement installation best practice, are aimed at professional technicians, the opportunity to impart this information into the minds of the next generation, is one we believe is really positive.
"Diagnosing issues and undertaking the correct installation process both avoids subsequent costly engine repair and enhances the reputation of the workshop, so providing this kind of expert guidance, so early in the education process, will pay dividends in the future, which is why we were so keen to respond to Thomas' request."
On completion of the hour and a half long seminar, the third-year students were awarded with a module one Dayco training certificate, while all attendees were also presented with a selection of branded pens, beanies and technician's gloves, as mementos of the day.
Commenting on behalf of Tameside, Thomas said: " I would like to thank Glen and Matt for coming and giving such a great seminar. It was most informative and enjoyable and we had great feedback from the students, which is a huge positive.
"The seminar gave the students some great insight, which I hope they will take with them wherever they go (hopefully the motor trade). It also showed them the importance of quality products and respecting changing intervals, as well as what other components may affect the belts etc. This has enhanced the knowledge of the learners when we teach them about auxiliary/timing belts and drive systems and when they are carrying out practical tasks working on engines on rigs in the workshop."
---
For more information regarding the OEM quality products in the Dayco range, visit:
www.dayco.com
.