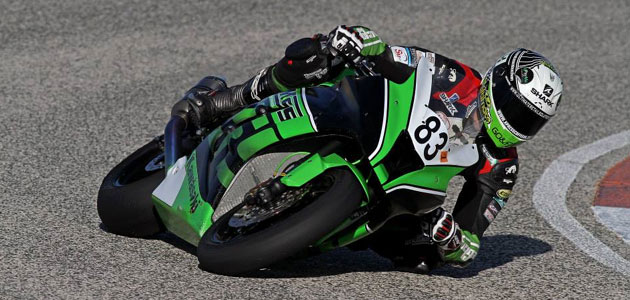 Be Wiser Kawasaki rider Danny Buchan is keen to make an impression in this year's MCE British Superbike Championship, following his convincing triumph in the Superstock 1000 last season.
The Essex born rider, pictured above on a practise hybrid bike, teams up with fans favourite and superbike veteran Chris Walker, in a team displaying both the youngest and oldest riders on this year's grid. Buchan is keen to impress this year, and is preparing for April's MCE BSB Championship opener at Donington Park more seriously than ever.
Buchan, currently training in Spain, hasn't taken the off-season lightly. The Superstock 1000 champion has been focusing heavily on his fitness, partaking in swimming, cycling, running, rowing, mountain biking and many more outdoor activities in order to be ready for the step up.
Speaking from his training camp in Spain, he said: "I did a three day test at Cartagena on my practice bike and that went smoothly. It's exciting seeing everything materialise behind the scenes with my leathers, boots, crash helmets and sponsors all beginning to take shape. I'm determined to eat healthy and keep my fitness levels high for the upcoming season. I can't wait to get on the new bike but it will count for nothing if I'm not physically and mentally prepared for when the starting lights go out at Donington Park."
Buchan's youthful exuberance, mixed with Chris Walkers' and Team Manager Tommy Hill's experience, calls for exciting times for the new team. There's no doubt that Buchan is relishing the step up to the main stage, and will hope to spring a few surprises along the way.
It has also announced, through associate team sponsor Dickies, that personalised Danny Buchan merchandise will be available through Dickies Store. Danny's merchandise will also be sold at the Dickies mobile showroom site, at every MCE British Superbike Championship meeting this year.