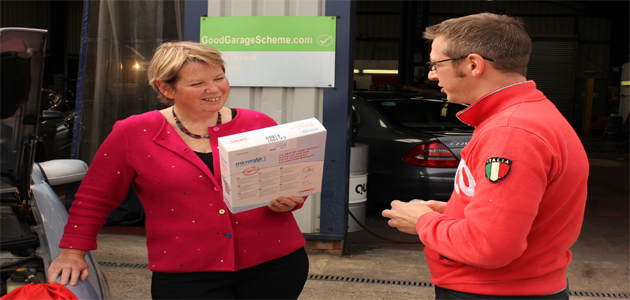 Corteco has introduced OE Quality Torsional Vibration Damper Pulley Kits to the UK market in a move that's set to make positive impacts on motor factors and garages alike.
By including bolts inside the TVD packaging, Corteco has eliminated potential installation errors. Many garages re-use the old bolts. Corteco advises that new bolts are fitted every time in line with the recommendations of the Original Equipment manufacturer. All TVD bolts are not the same and the Corteco TVD kits ensure that bolt identification errors are eliminated at supplier level.
"Installers are more likely to fit the bolts when they are provided inside the box, with the pulleys," says Corteco Product Manager Satbinder Rana.
TVD pulleys are increasingly fitted inside auxiliary drives in order to reduce crankshaft vibrations. As such, they are subject to wear. The introduction of the new kits is a move that encourages better workshop practice at garage level. It adds further value to the Corteco TVD product range, too.
"Unchanged, a worn TVD creates problems for the belt and other components in the drive, but it's essential that new TVD bolts are installed when the new pulleys are fitted in order to preserve system integrity," he adds.
Sales and Marketing Manager Steve Jarnet says:
"When supplied separately, the problems for motor factors have always been TVD bolt identification and parts storage. A single box resolves those issues and gives us the opportunity to enhance the warranty to our customers. As we've taken the opportunity to redesign the packaging, we've been able to improve part protection, reduce shelf space requirements and increase product visibility – all at the same time."
From a storage, logistics and route to market perspective, the 65% space saving in packaging makes Corteco TVD Pulley Kits better value on the shelf, in the delivery van and on the sales invoice.