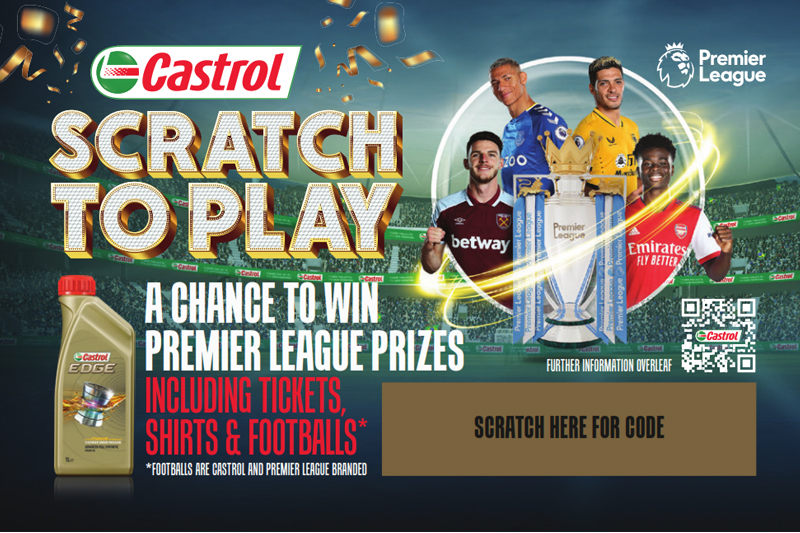 ---
Castrol has announced a scratchcard campaign that gives workshops and retail partners the opportunity to win a vast array of Premier League prizes.
---
Castrol is helping workshops drive lubricant sales with a new scratchcard promotional offer, linked to its ongoing sponsorship of the Premier League (PL). Customers who bring their vehicle to a participating Castrol Branded Workshop or purchase Castrol oil from a franchised workshop or approved retailer will be eligible for a scratchcard, providing the chance to win a host of PL prizes, including match tickets, merchandise, and Castrol and PL branded footballs. The campaign runs from 27 July to 30 September 2022.
The initiative follows a recent survey that highlighted motorists are interested in learning more about high-quality products that can represent valuable sales opportunities for workshops and retailers. Castrol found that 51% of UK motorists polled said they would be happy for their workshop to sell them or use premium-quality consumables if the benefits were clearly explained.
Liah Sacco, UK Marketing Manager at Castrol, commented: "We're thrilled to be giving away some exciting Premier League prizes to customers, while at the same time helping mechanics and retailers boost customer loyalty, and bolster workshop's revenues."
Those who strike lucky with their scratchcard will be in with a chance of winning matchday hospitality and grandstand tickets, Castrol and PL-branded footballs, and official team home shirts. Participants could also be entered into a lucky dip for PL merchandise, with a range of surprise prizes up for grabs.
---