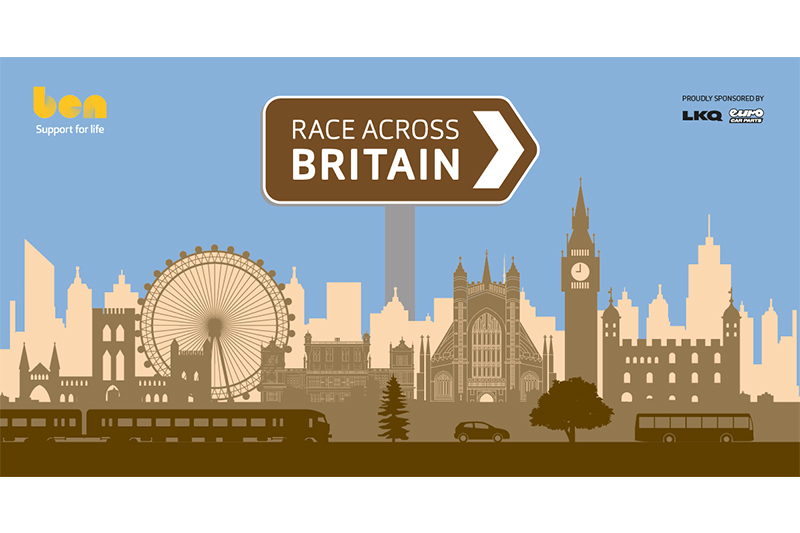 ---
Ben has announced it will be recruiting teams to take on a new UK-based fundraising challenge for the automotive industry, called Race Across Britain, based on the BBC TV series 'Race Across the World'.
---
The event will aim to raise vital funds to support people who are struggling or in crisis and will be supported by LKQ Euro Car Parts.
Ben has challenged automotive industry people to pair up with colleagues and take on this new and epic three-day race across Britain in February 2024. The event will raise funds for Ben during a time when the charity is supporting more people than ever during the cost-of-living crisis.
A maximum of 50 teams of two people will be challenged to reach set checkpoints throughout Britain from 26th – 28th February 2024. The teams will have a strict budget to cover all food, travel and accommodation. They won't know any of the checkpoints beforehand so they can't plan or pre-book travel or accommodation.
Participants also won't be permitted to drive themselves, but they can use any form of public transport and cycle, run or walk. Teams will need to plan their own routes carefully and tactically, travelling from one checkpoint to the next. They will be able to take on extra challenges along the way to earn additional budget and help them progress.
Matt Wigginton, Director of Partnerships, Engagement & Income, said: "We're so excited to launch this new and epic race next year! With no planes, no smart phones and no plans, Ben's Race Across Britain is set to be frenetic and lots of fun. It'll be a true test of ingenuity, resolve and anyone and everyone in our industry can take part.
"We know our automotive family loves a bit of healthy competition, so this is the perfect way to have some fun while also supporting your dedicated industry charity. Demand for our services has reached levels never seen before, with one person every 10 minutes contacting Ben for support. That's putting huge pressure on our ability to manage such a dramatic increase in demand. Race Across Britain is a brilliant way to show your support for our automotive family, and every penny raised will make a positive difference to people's lives. Get involved!"
Andy Hamilton, Group Chief Executive Officer at LKQ Euro Car Parts, added: "Once again, Ben has pulled out all the stops to create a fun and engaging event to raise critical money for their vital services. As the automotive industry's charity partner, we'd be lost without them. It's a pleasure for LKQ Euro Car Parts to sponsor their Race Across Britain event. We're looking forward to seeing some of you at the starting line!"
---
To find out more and sign up, click
here
.