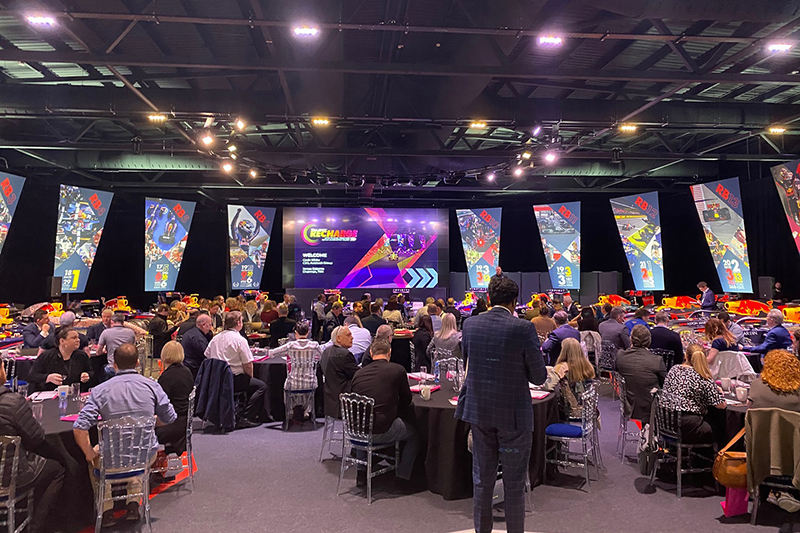 ---
The automotive aftermarket has united at the inaugural Talent Recharge: 'How to gain, train and retain talent' event, to kick start the industry's talent shortage conversation.
---
Over 200 senior leaders from OEMs, dealer groups, independents and the tyre, paint and body sectors, joined automotive industry trade bodies and representatives from the education sector.
During the event, which was hosted by Autotech Group, an interactive poll revealed that 100% of respondents felt that their business' current talent strategy was not fit for purpose.
Held within the surroundings of Red Bull MK-7 in Milton Keynes, Talent Recharge included a line-up of speakers, along with interactive roundtable and panel discussions to help delegates devise and deploy successful long-term talent strategies.
Cited as a 'restart moment' and the chance to tear off the plaster which has been precariously holding the industry together for over a decade, the event also saw attendees participate in an interactive poll. Results revealed that over 75% felt that recruitment had become even more difficult following the pandemic, and 45% admitted that the skills shortage had cost their business over £100k in the last 12 months.
Speakers included former McLaren Formula 1 team mechanic and automotive broadcaster, Marc 'Elvis' Priestley, recruitment advisor and entrepreneur, James Osborne, and other prominent figures from other industries who have faced similar skills shortage challenges.
The IMI's Jim Saker and Joanna Hollingdale presented the findings from its recent Diversity Task Force Report and opened up the floor with questions from the audience on how to implement diversity and inclusivity into their recruitment strategies.
While the morning focused on the trade, the afternoon session brought together senior leaders from the automotive industry with the education sector, specifically people who are responsible for their college's automotive offering.
During the afternoon, VW Commercial Vehicles' Paul Anderson joined Ford UK's Sarah Brettle, Fix Network World's David Lingham, Kevan Wooden from Euro Car Parts, and Catherine Treanor CAE MIMI from Electude to run a panel debate. This reportedly provoked discussions and provided some ideas on how the automotive industry and FE colleges could work together to "rewrite the playbook" and step up their efforts in securing future talent for the industry.
Gavin White, CEO, Autotech Group, commented: "We were delighted with the success of Talent Recharge. The fact that so many senior leaders from the automotive industry attended is demonstrative of the impact the skills shortage is having on the sector and there was a real feeling of wanting to make a difference. We hope now that businesses can take the information shared on the day and implement long lasting strategies which will help turn the tide."
---