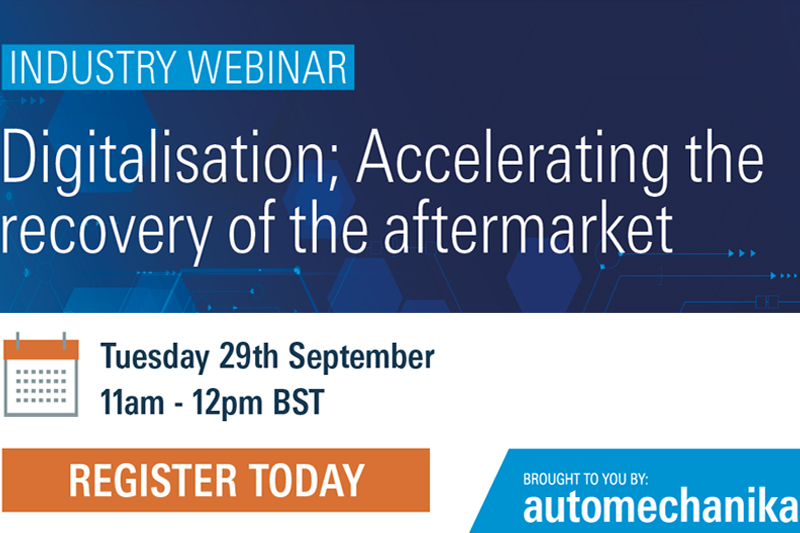 ---
Automechanika Birmingham has announced that the next session of the Automotive Aftermarket Webinar Series, will take place on 29 September.
---
Following on from the success of the first session, the next free-to-attend live discussion will be 'Digitalisation; Accelerating the recovery of the aftermarket' and will begin at 11am.
An industry panel will provide a 60-minute, in-depth view on how digitalisation is changing the way business is conducted in the aftermarket.
Guest speaker, Dr Julia Saini, Associate Partner at Frost and Sullivan and described as an expert on the topic, will explore the key trends driving digitalisation in the aftermarket.
Joining Julia, Peter Lawton, Senior Section Manager at SMMT, will also share his views, which have been shaped by the experiences of suppliers, motor factors and retailers throughout the aftermarket. It is hoped that this will provide a balanced discussion looking at the opportunities and challenges when adopting digital in the aftermarket.
Whether it's informing customers, driving sales, delivering operations or a particular service, digitalisation is said to be key in helping companies adapt and communicate with the supply chain more efficiently.
Further speakers will be announced soon, with the aim of providing an insightful and practical conversation with experts and industry practitioners.
The webinar sessions have been structured to cover both the strategic outlook for the automotive industry and the on-the-ground, real-world experiences of businesses in the aftermarket supply chain on a daily basis.
Simon Albert, Managing Director of Messe Frankfurt UK, Organisers of Automechanika Birmingham, said: "The first in the series was a huge success – the webinar delivered an informative insight into real-life experiences of how Covid-19 had affected the businesses of key industry players throughout the supply chain. After listening to industry feedback and surveying the market, this free webinar will focus on the digitisation of the aftermarket, while forecasting what may be next for the industry as a whole.
"Joining us on 29th September will benefit all industry professionals who want to get a wider look at the whole of the automotive industry. We encourage suppliers, factors and garages alike to sign up where possible."
---