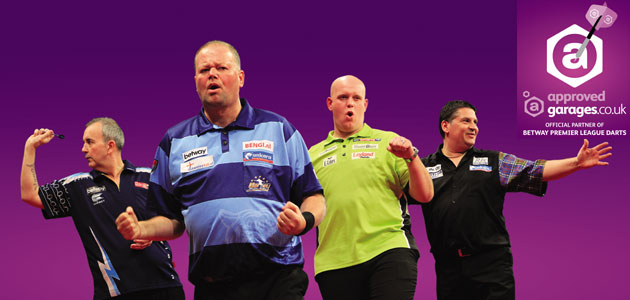 Approved Garages has become an official partner of Betway Premier League Darts 2015. The trusted garage network, which covers over 500 independent garages across the UK, joins current partners including ITV, Sky and Thomas Cook in sponsoring one of UK sport's fastest growing competitions. 
Approved Garages Network Manager Phil Seymour said: "We're really proud to be associated with Betway Premier League Darts 2015. It's a great competition featuring many of the world's top players and darts is a sport that gets more popular every year. We know it's something many of our garage members and customers are excited about, so it's a great fit for us."
The Professional Darts Corporation (PDC) Betway Premier League is the UK's premier darts league competition, with 16 major events taking place across the country, from Brighton to Glasgow and a hatful of cities in-between. The league kicked off in Leeds last month, and reaches its thrilling finale at the O2 arena in London on May 21st.
Round three takes place at Liverpool's Echo Arena tonight where two of the early pace setters, World number one Michael van Gerwen and reigning World Champion Gary Anderson, will go head-to-head. One of the other highlights of the night sees Premier League debutant Stephen Bunting take on 16-time champion of the world Phil Taylor in front of his home fans.
And it's that sort of national coverage, along with the growing popularity of top level darts, that was particularly attractive to Approved Garages, Seymour adds.
"This is a league that criss-crosses the country from Aberdeen to Sheffield and from London to Leeds. Like Approved Garages, it's truly national in scope which means it's relevant to our members and customers, wherever they may be."
Darts fans should keep an eye on local media and Twitter (@approvedgarages) in the run up to events for a chance to win tickets to tournaments, courtesy of Approved Garages. Approved Garages will also be featuring regular news and views from the league, including exclusive interviews and player profiles, on its website.
"This is an exciting announcement for us because it reinforces our commitment to top class sport," said Seymour. "There's nothing like a night at the darts and we're delighted to be able to give some of our lucky customers a chance to experience it."
Barry Hearn, Chairman of the PDC, commented. "We are delighted to welcome approvedgarages.co.uk into our darts family and we're sure they'll enjoy and benefit from their partnership with the Betway Premier League Darts. They have sites in all the cities we visit and I know that our thousands of darts fans will be able to benefit from the great service they offer."