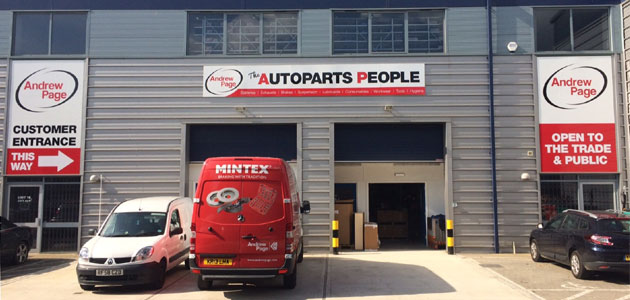 Following its recent rebranding exercise, distributor of autoparts and workshop equipment, Andrew Page, has continued the rejuvenation of the group by adding a new site in Southampton. The new site, which opened on Monday August 4th, has created 20 jobs in the area.
As the first completely new site for Andrew Page in two years, the Southampton branch will also be the first to include the new branding of Andrew Page as 'The Autoparts People'. All interior and exterior signage, as well as the ten vans based at the site will bear the new identity of the company, which underlines the relevance of the group in the market while retaining the local motor factor values that customers are used to.
Based at Chancerygate Business Centre, Southampton, the site is the first in a series of new locations to be developed and opened by Andrew Page as the company expands its network to 120 sites over the next three months. The Southampton branch will expand the reach of the existing Hampshire branches, increasing the stock levels available within the region and ensuring that customers can be served as efficiently as possible.
With products from 154 suppliers, the new facility has a stock capacity in excess of £1 million and, serving the trade and public, customers can tap into the knowledge and experience of the Andrew Page team. Local advertising and a discount promotion will coincide with the centre opening to maximise awareness.
"The Southampton site is something we have been working on for a little while now, and enables us to extend the reach of our network," said Simon Mullin, Sales & Marketing Director of Andrew Page. "This site will help Andrew Page to fill a hole left by the recent closure of Unipart Automotive in Southampton. Across the UK we were able to save 21 of the Unipart sites, and the opening of this new site in Southampton takes us to 115 branches nationwide. This allows us to provide more jobs for the best talent in the industry."