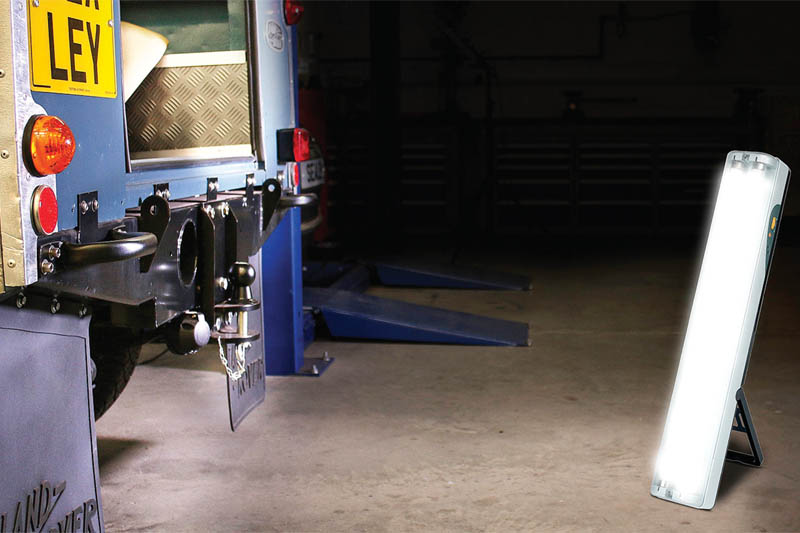 ---
PMM shines a light on Sealey's range of workshop lighting that can help technicians make the short winter days that little bit longer.
---
Most people will agree that 2020 was a very difficult year for many sectors. The first lockdown restrictions meant that most garage workshops had to close. Those that were able to remain open, primarily for the maintenance and repair of key vehicles, faced supply problems due to motor factors being out of operation. Vehicles developing problems due to months of inactivity meant that when garages reopened many of them saw increased business compared to pre-lockdown levels. A surge in MOT test demand due to the Government's MOT extension also caused a significant increase in customers. Lockdown number two and the subsequent tiered measures brought new challenges for independents across the UK.
Even without the pandemic, this time of year is a trying one for businesses. Statistics show that winter breakdowns are more than double the figures recorded during the summer months. Many of these breakdowns can be as simple as a battery failure due to the high demands placed on batteries during winter. Affordable and reliable work lights are therefore a vital piece of equipment when working on vehicles, particularly on the roadside or at a customer's address. Amongst the rigmarole, many garages will not have had time to plan for the winter season to the degree that they would have in a more 'normal' year of trading. With the unusually high levels of work this season, it's crucial for garages to get the most out of their working day; Sealey's range of workshop lighting might be the perfect solution.
What's in the range?
The Sealey LED184 Rechargeable Portable Floodlight and Power Bank provides up to 1,900 lumens of light and has a useful power outlet for charging mobile devices. If you are looking for something that works better in confined spaces, the LED186 folding inspection lamp provides a choice of lighting for those areas that are harder to access.
When it comes to breakdowns, the Sealey ML18/36 (pictured top) is a popular choice. Its twin daylight fluorescent tubes are suitable for applications when mains power is unavailable. Aside from this, the unit has many other useful features, including: being able to run the tubes individually or as a pair from rechargeable cells; an integrally stored mains cable for recharging only; an electronic control that allows the unit to be used as an emergency light, switching the light on in the event of mains power failure; a carry handle and floor stand, or if needed it can also be wall mounted.
Winter brings many challenges to us all, but there are opportunities to tackle these demands head on. Rest assured, technicians can rely on Sealey to provide the lighting required for you to make the most of the short winter days.
---
To find out more about Sealey's workshop lighting range, click
here
.