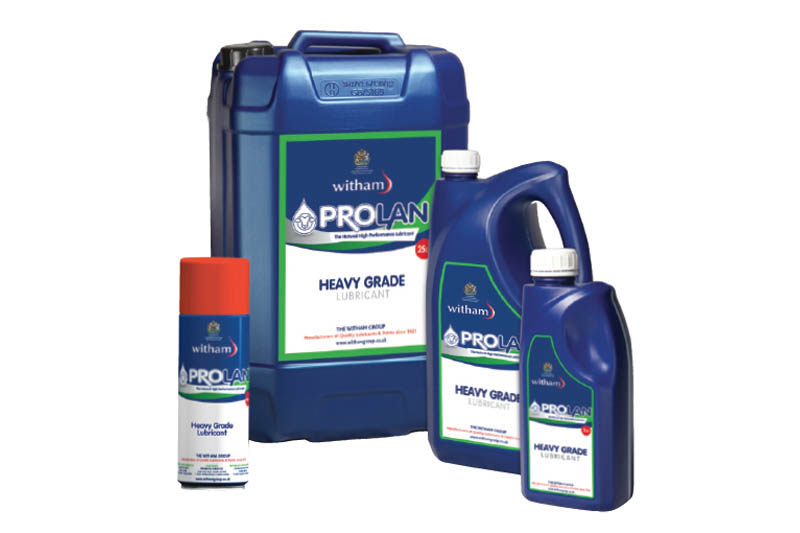 ---
PMM takes a look at a new range of lubricants from the Witham Group, designed to be more environmentally friendly.
---
In recent years there has been a global move towards more environmentally sustainable products and people are increasingly looking for more environmental alternative lubricants and greases. Prolan lubricants offer protection and are suitable for use in the fight against corrosion.
Distribution in the UK
Witham Group has previously been a distributor of Prolan products, but is now the sole importer and distributor for the UK and Ireland. The concept was originally created in New Zealand and is now a growing global, environmentally friendly, and high quality lubricant range that Witham is involved with.
The choice of products has been expanded by Witham to create five new viscosities, from light grade to extreme grade. Prices have also been drastically reduced, due to the reorganisation of the import structure. As more companies address the use of chemicals in their supply chain, and want to improve their sustainability credentials, this lubricant is a popular choice for many businesses.
The products are made with lanolin derived from sheep's wool. Lanolin is a powerful natural product often known as 'wool grease'. It has been used for centuries as a natural moisturiser. Raw lanolin is a natural substance secreted by sheep to provide a protective coating on their fleece for protection in harsh conditions. Once the sheep have been shorn, the fleece undergoes a scouring and refining process to extract the lanolin and clean the fleece.
Lanolin's strong lubricating and protective qualities have been used to outstanding effect in many industries, particularly on metal surfaces and moving parts, by forming a long-lasting natural barrier that protects and prevents corrosion. Its unique formula enables the lubricants to stay in place and not evaporate.
Healthy choice
Our planet is under threat from the long term use of chemicals. Many customers require a high quality lubricant but now wish to have a more environmentally safe product to protect staff and the environment in which they work. Prolan products are non-toxic, non-carcinogenic and good for health and well-being.
Powered by New Zealand-based lanolin experts, the product range has been formulated by qualified engineers and lubricant specialists.
---
Want to know more? For more information, click
here
.