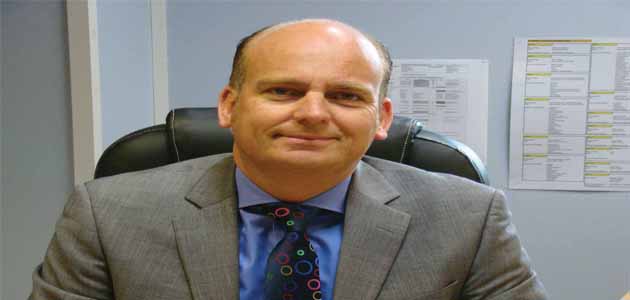 The addition of a decent number of new references to the existing Sovereign product portfolio would've been enough to keep anyone's hands full but when you also throw the launch of a clutch pulley range and two new rotating electrics programs into the mix, as well as a continued investment in quality remanufacturing and end-user support, it is not hard to see why Sovereign is keen to shout about its efforts to PMM.
With so many companies happy to stand still in the current climate, Richard's determination to improve the Sovereign offering is admirable. As it stands, the organisation remains one of the major protagonists of job creation in the Bognor Regis area – home to the firm's UK headquarters and remanufacturing facility – and it is here that Richard is able to oversee the type of quality control required to ensure that remanufactured product is of a consistently high standard.
He says: "We've opened up our manufacturing facility to both motor factors and garages, as any claims we make should be open to scrutiny. We also hope this will help visitors to overcome the many misconceptions that surround the remanufacturing process as it is far more involved than what the industry perceives it to be (as you'll see later on in this article).
Striking gold
"Our investment in this site has helped us to grow the number of parts in our range to over 4,000 references in the past year as well introducing rotating electrics programs for both the commercial vehicle and power sports markets. What's more, we're so confident in the quality of our products that we now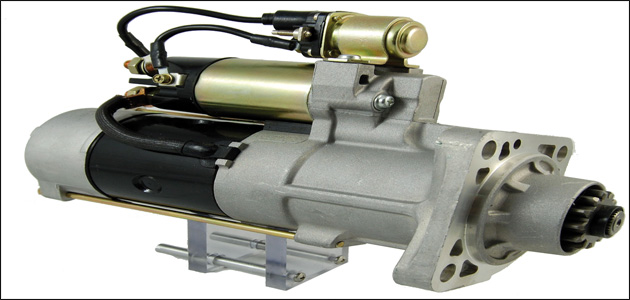 offer a 24-month national warranty. The special gold logo that accompanies this will appear on all product packaging, providing garages with reassurance and confidence when fitting Sovereign products.
"Our customers like the fact that we continue to be proactive and come up with new products and services, the latest of which is a clutch pulley portfolio, sold exclusively under the WPS brand. This partnership with WAIglobal has added extra scalability and scope to our operation and the OE-quality range comprises over 150 Overrunning Alternator Pulley (OAP) and Overrunning Alternator Decoupler (OAD) references."
The support for independent service/repair professionals doesn't stop there though as a revamped range of lead sets, covering 98% of the UK vehicle parc, as well as technical support sheets for the company's coil-on-plug range have further continued Sovereign's recent good work and this only looks set to continue.
It's hard to imagine that Richard finds the time to fit anything else into this busy schedule, but any spare moments that he does have will be dedicated to preaching the gospel about remanufactured product as well as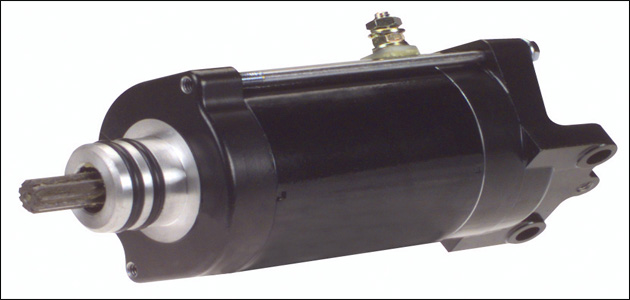 pushing for the definitions of 'remanufactured' product to closer represent the production techniques, testing and technical support that go into his own company's offering.
He concludes: "We've recently introduced the term 'renewed' to define our products and in my opinion this has been long overdue. The exhaustive manufacturing process that we undertake, along with the high content of new components featured on our products, means that 'renewed' is a much better term to accurately describe what's in the box."
HOW DOES THE SOVEREIGN REMANUFACTURING PROCESS WORK?
OLD CORE: Each old unit is sorted by its original number. It is then recorded into stock before being stored in the core warehouse. All 60,000 cores are stored in designated bins and the process starts with a batch of cores ready to be stripped.
STRIPPING: A job card is raised and the cores are taken to the stripping department. Each and every component is removed and put aside for cleaning. At this stage nothing is thrown away as it is impossible to identify damage while parts are still dirty. During this process the rectifiers are de-soldered and the solenoid caps are removed.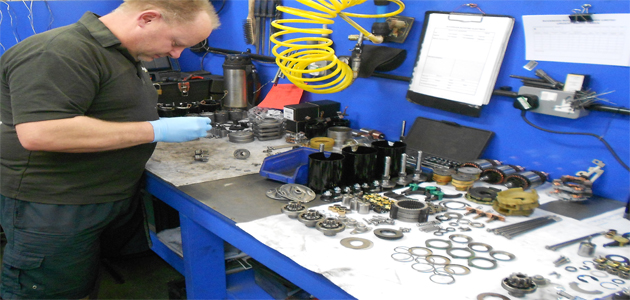 CLEANING: All parts, ranging from brackets to nuts and bolts, are cleaned using various machines. Once washed they're shot blasted, leaving them looking as good as new. Rotors and stators are cleaned to restore them to their original finish while bodies and armatures are cleaned inside and out. The rotas and stators are then buffed before magnetised bodies are cleaned with glass shot. Solenoid windings are tested and cleaned before assembling.
VISUAL QUALITY CONTROL: The brackets are measured and components are then thoroughly inspected for damage. Stators are also electrically tested before the damaged items are then scrapped. Sovereign scrap over 20% of each batch due to poor quality or damaged parts.
SUB-ASSEMBLY: Bodies are dipped in black lacquer and the stators are sprayed both for protection and cosmetic appeal. The stator wires are sleeved before the new rectifier is fitted and each joint is carefully soldered. Every brush is replaced and welded into place. The slip rings are then soldered. The job card is always referred to throughout the entire process. The drives are fully disassembled, cleaned and reassembled using new springs and rollers. Once re-crimped it is effectively a new drive. Solenoids are then taken apart and cleaned and new caps and contacts are fitted and re-crimped. They're now effectively a new solenoid.
RE-BUILDING: Each builder must inspect the part again before assembling. Every unit is built with great care to insure the components are fitted properly. All components are sourced from OE and OES suppliers. Full traceability of each unit is essential throughout the process. For this reason, small batches are built by one production builder. All units follow the OE specs as detailed on the spec sheet.
TESTING: Every unit is load-tested before leaving the factory. The latest DV test equipment is used to measure the performance. This automated process allows the unit to be tested to the maximum, passing or failing at the conclusion. Once passed, a test certificate relevant to that individual unit is printed out and placed with it.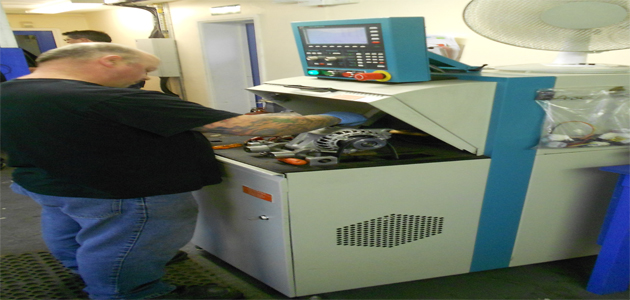 PACKAGING: Each unit is shrink-wrapped for protection and storage. Inside customers will find the test certificate, fitting note and production identification label. Items are then packed in distinctive boxes ready to sell. Thousands of finished products are held at the head office for call-off.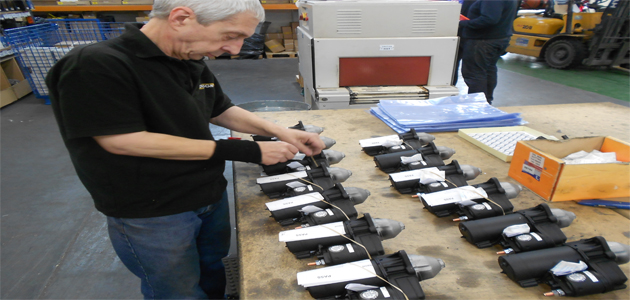 CUSTOMER SERVICE: Sovereign places considerable investment and emphasis in its aftersales support, from its head office telesales team, to its external sales team covering the UK. In addition to its video on the remanufacturing process, it has produced a number of posters and guides for installers that offer assistance with warranties, technical support and old core returns.
DISPATCH: Goods are dispatched daily to customers worldwide.