---
PMM pays Shaftec a visit to find out why the company is well set to help car owners to 'Drive, Steer & Stop' for many years to come.
---
When the late Stan Jones founded Shaftec (then known as Track Automotive) in the late 70s, little did he know that some three decades later his company would be positioned as one of the top players in the UK remanufacturing sector. Although the organisation originally traded as a supplier of private label part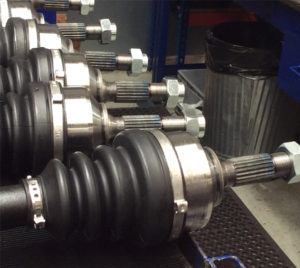 s, in 1995 it began remanufacturing and distributing automotive components (initially CV joints and driveshafts) to the aftermarket under the Shaftec brand.
Fast forward 35 years and the company is now in the safest of hands, with the firm boasting a turnover figure in excess of £8.5 million at the end of last year, a current stock-holding in excess of £3.5 million and over 110 staff employed at its new home in Hockley, Birmingham – a major leap from its early days where just nine members of staff and 20 part numbers catered to the needs of its customer base.
Furthermore, the Jones bloodline still runs through Shaftec, with family members working in the business and Stan's son Robert employed as a Director, along with Tom Curtis (pictured above), who joined the firm in 2010. In recent times the pair have overseen an unprecedented period of growth that is testament to the values of good business ethics, team work and a strong ability to react to market demands and opportunities.
Group decisions
The real upturn in Shaftec's business can be charted back to 2002, when it was awarded its first motor factor 'buying group' contract. Naturally this had a huge impact on the company as it was now serving a far bigger customer base and had to adapt accordingly to meet the demands of the distributors it was now supplying. The next few years witnessed further challenges as the noticeable increase in the number of driveshaft and CV joint part numbers required to cater for the quickly growing vehicle parc forced Shaftec into further expansion.
Despite successfully navigating the potentially tricky waters that come with winning any major supply contract, the company felt that its CV joint and driveshaft business had reached a natural plateau by 2006 and, as a result, it decided to cast the net wider by introducing a new product line – remanufactured brake calipers – into its existing range.
"The Jones bloodline still runs through Shaftec, with family members working in the business today."
"Calipers are generally a high volume, fast moving product group and, because the products and applications were changing, they were in high demand. Despite it being a very competitive sector, we launched to the market at a good time and the quality of our products and availability further improved our reputation at factor and garage level," says Robert.
"This led to our next big launch at the beginning of 2010 – steering racks and pumps. Although we were able to get things up and running fairly quickly at a site in Newcastle, where we employed a number of ex-staff from a local remanufacturing specialist, we found that the distance between our (then) Midlands base and the North East was creating some logistic difficulties."
"We offer a full range of high quality products, with huge availability, strong cataloguing and impressive order times. This is backed up by our commitment to customer service and technical support."
Laying foundations
It was at this point that Tom joined the business and, working alongside Robert, the pair set about looking at ways to improve Shaftec's existing operations as well as laying foundations that would allow the organisation to cope with the pace of any current and future growth.
"Bringing so many new products into the market in such a short space of time meant that we had to go through a period of consolidation to ensure that we had the stock levels to meet the demands of our customers. We were able to invest heavily in some new stock and this gave us a strong platform to build from," says Tom.
"Our next step was to make sure that our range had full visibility, especially if we wanted to look at attacking the export market in the future. Although moving our parts cataloguing data on to TecDoc was an expensive exercise that involved a lot of internal time and resources to get everything ready, we've now gained Tecdoc "Certified Data Supplier" status and are acutely aware of the importance of accurate cataloguing."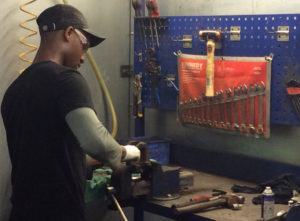 Possibly the biggest landmark on the Shaftec timeline came at the beginning of last year when the firm moved its operations – which by now encompassed nine different units located over a 3⁄4 mile radius – into one central site, based close to its original home in Birmingham. Put simply, Shaftec had outgrown its original home and the relocation – which included moving the existing steering factory from Newcastle to Birmingham, just a few minutes away from its new location – became a necessity if the company was serve its customer base efficiently and effectively.
Tom explains: "We'd almost become a victim of our own success because every time the business needed to expand or we needed more capacity, we'd acquire another unit. As these weren't all based in one location, however, logistically it was an absolute nightmare and we lost productivity as a result.
"We started trading from our new 42,500 sq ft site at the beginning of last year, but to ensure that our customers weren't adversely affected we actually moved the business across during a four month window prior to that. There's little doubt that this has helped us to evolve very quickly as all of our production takes place in Birmingham, our volumes have increased, old core is stored at one site and picking & distribution is much more fluid."
New opportunities
The move could hardly have been better timed, especially as other market factors meant that opportunities for new business were arising all the time. But, as Robert explains, with every door that opens, new challenges often await.
"So far this year we've experienced a high level of growth on the previous 12 months, but that comes with its headaches at the same time. Trying to increase production on steering racks, for example, is difficult as you have to employ more people with the correct level of expertise and invest in extra equipment as well.
He adds: "If you're producing a batch of popular part numbers then obviously the process can be fairly swift, but if you're producing one component (because that particular part number has very little volume demand) then this might take considerably longer. There is such a huge variety of part numbers across our product groups – and differences in the design and end-user demand for these – we've had to make sure our processes are both flexible and reliable."
Robert's input has been particularly valuable in this area as his knowledge has been put to good use in the design and layout of the remanufacturing production lines and warehousing/distribution facilities to ensure that Shaftec's operations are as fluent and lean as possible – a key reason that customers will continue to benefit from same day despatch with next day delivery to the majority of Europe.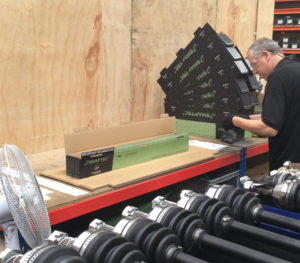 Quality counts
In terms of its remanufacturing values, Shaftec's philosophy remain faithful to the company's original vison that the production process for CV joints and driveshafts should follow the same engineering principles utilised in the manufacture of new parts. The main difference being that the original casings and/or shafts are remanufactured while internal components are replaced with OE spec equivalents. These same principles are then transferred to every product group that the company introduces to its range.
"Remanufacturing is still very much the heartbeat of our business and today we're able to remanufacture all of our driveshafts, calipers, steering racks and pumps here in the UK," says Tom.
"This not only allows us to control the quality of our products, which is vitally important, it also means we can manage stock and availability. Additionally, we have the benefit of keeping a full range of products, which many of our competitors are unable to do. When you're reliant on someone else to supply you with components, you're at the mercy of their availability levels too. Our customers want parts tomorrow, so that is what we need to provide for them."
One of the most impressive aspects of the Shaftec story is that the company refuses to run before it can walk, choosing instead to harness and improve its existing offering before it will even consider introducing a new product line. That said, it always has an eye on potential new growth areas and additional launches could well be on the horizon in the future. Watch this space!
In recent months the firm's efforts have been focused on refreshing its brand presence and packaging, with a new website and updated marketing material underpinning an undoubtedly impressive parts offering. Tom concludes: "We've never been ones to rest on our laurels, but it's important that the company grows in an organic way, as we've seen many occasions where organisations have got themselves into trouble by trying to expand too quickly. We see a bright future for remanufacturing and we feel we're well positioned to be right at the forefront of the sector."
---
For further details about
Shaftec's
range of remanufactured automotive components, click
here
.