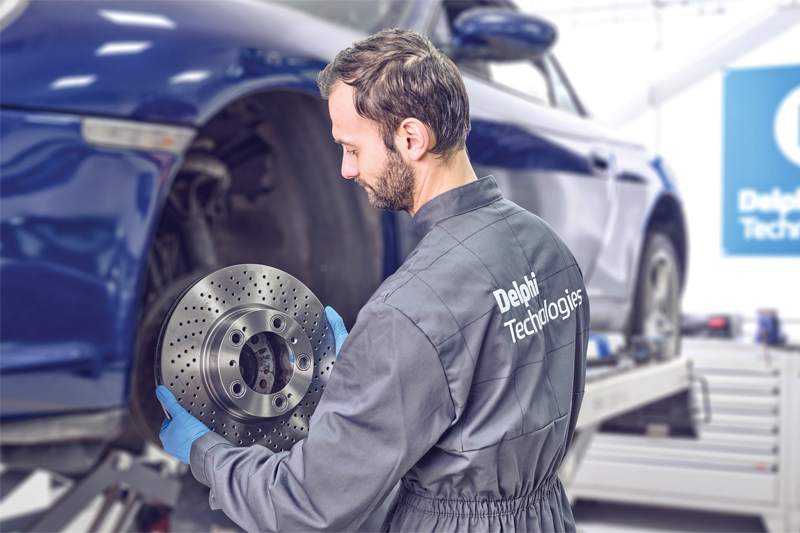 ---
According to Delphi Technologies, coated brake discs can help put a stop to MOT advisories.
---
After three national lockdowns due to the coronavirus pandemic, cars have spent more time parked motionless than ever before. The Department for Transport estimates that car traffic in 2020 decreased by 24.7% when judged against 2019 levels, dropping a typical driver's annual mileage from 7,400 to just over 5,500 miles.
While that might sound like good news in terms of reduced fuel bills, there's a risk that lack of use has only created problems for the future. Some cars may potentially have seen less maintenance and inspection than usual due to the government's MOT extension, and that may mean these problems are now coming home to roost.
One in 10 MOT failures are caused by issues with the braking system, and brake discs are among the most exposed parts of a car: subjected to huge temperature changes, largely unprotected from the attrition of road dirt, and drenched in salty water in winter, the abuse doesn't stop when the car is parked.
Modern alloy wheel designs leave the discs open to the elements where corrosion quickly sets in, and while this will usually only result in a test failure if it is judged to be excessive, it can easily lead to a reduction or imbalance in braking performance that will quickly need addressing.
Some customers may find their cars earn an MOT advisory for the first time due to the poor condition of the brake discs, particularly if the surface has corroded unevenly having been parked for so long. Such an advisory presents an ideal opportunity to discuss the possibility of fitting replacements in the future.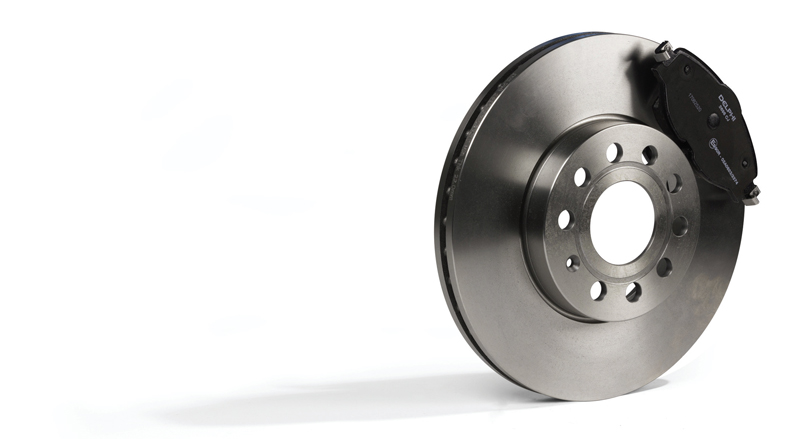 Extra work
From a garage's point of view, replacing the discs on a vehicle where corrosion has been allowed to take hold can be difficult and time consuming, particularly if the mating surfaces between the disc and the hub have become corroded together. Not only that, but traditional replacement discs are often supplied with a preservative oil coating that must be carefully removed, making what should be a simple job now a much more long-winded affair.
However, as Julian Goulding, Northern Europe Marketing Manager at Delphi Technologies Aftermarket explains, coated discs can resolve these issues. "Our zincflake based Geomet coating is applied to the entire surface of the disc, including the top hat, outer rim, mounting bore and even the internal vanes, giving long-lasting protection to every part of the disc. And because it's oil-free, they can be fitted straight out of the box. All the technicians need to do is unpack the discs and install. We even supply the hardware."
Durable coating
The Geomet coating used by Delphi Technologies is an environmentally-friendly high-performance zinc flake and water-based finish that leaves a consistent silver appearance that outlasts the protection offered even by traditional painted discs.
Independent tests of salt spray corrosion resistance have proven the coating's effectiveness in comparison with other finishes. A Delphi Technologies coated disc was tested against its OE equivalent and five premium aftermarket brands. After only 24 hours of being subjected to the salt spray, the OE disc and a premium black-painted disc had suffered complete corrosion and were withdrawn from the test. By the time the test was concluded after a total of 720 hours – the equivalent of many, many more hours of realworld driving conditions – the Delphi Technologies disc still exhibited less corrosion than the OE part had shown at the 24-hour point.
By resisting the effects of corrosion for longer, Geomet coated discs can maintain full braking performance for longer, even with extended gaps between maintenance inspections, keeping drivers safer and simplifying their eventual replacement.
The coating is offered across Delphi Technologies' range of brake discs, from high-carbon content to cross-drilled and vented discs, all of which match or exceed the OE specifications and are supplied as a kit complete with fixing hardware and everything needed for a quick and painless installation.
Delphi Technologies already offers brake discs for a huge range of vehicles, meaning garages and customers can benefit from Delphi Technologies' more than 80 years of experience and enjoy access to OE-quality replacement parts without being tied to the vehicle manufacturer, potentially saving money as well as time. In addition, Delphi Technologies' work with OEMs allows it a unique insight into new vehicles coming to market and can prepare for their arrival with a full aftermarket offering.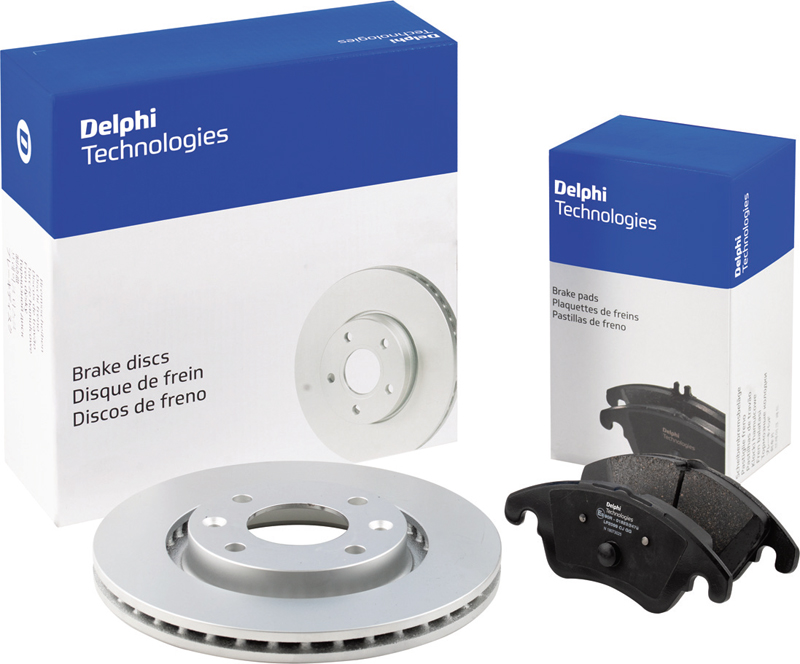 Certified
All brake discs for vehicles manufactured after 1st November 2016 carry the recently extended ECE R90 certification, awarded only after rigorous integrity testing and thermal fatigue analysis, with the company going so far as to secure certification for many popular older vehicle applications, too.
But it's not just the enhanced performance, longer service life, or ease of replacement that should attract car owners and garages to coated brake discs, Goulding concludes. "They also look good. Who wants to see a rusty old disc poking out from behind a stylish set of alloy wheels? Our silver Geomet coating ensures a bright, shiny finish that will stay looking that way for longer. And with something as safety-critical as a vehicle's brakes, that offers drivers a welcome sense of reassurance."
---
Want to know more? For more information, click
here
.