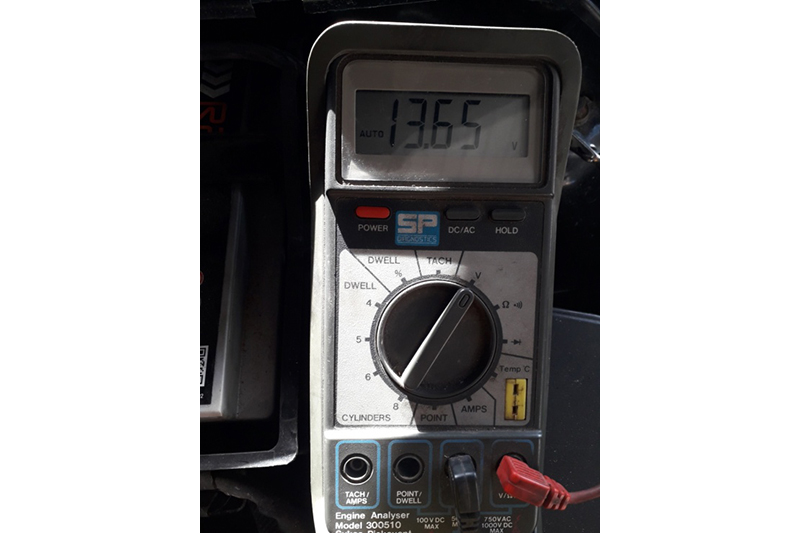 ---
Des Davies puts Traction Charger's CSU2-50B battery support unit through its paces.
---
Specifications of the unit supplied
Input: 100-240 V AC
Frequency: 50/60Hz
Weight: 6Kg
Size: 280x190x90mm
Output: 13.4 V up to 50A continuous
On taking delivery of this unit I could see that it was well constructed, easy to use and looked solid. These are OEM-approved by the following manufacturers: Ford, Nissan, Volvo, Jaguar and Land Rover. All of their products are either made or sourced in the UK, which reduces the carbon footprint. The battery cable leads are approximately 2.7 metres long and the input supply cable is approximately 5 metres long, these proved to be very generous lengths and helped with connecting vehicles with hard-to-access battery locations. They are also of a good build quality.
This CSU2-50B unit can be used with any 12 V automotive battery including AGM, GEL and LiFeP04, which was very adaptable across a big range of batteries. The status of this BSU unit is indicated by three LEDs: power, polarity and demand.
When all three are illuminated, the BSU unit is supporting the battery for you; this was a nice easy visual check to inform you that the unit was operating correctly and also that your connections to the battery are correct.
It has an output current display, reverse polarity protection and disconnect detection, therefore this unit is very safe to use.
In CSU mode, when the battery is charged the CSU is a regulated power supply to sustain accessory loads and offset parasitic drain with battery state detection, ensuring safe prolonged use.
In BSU mode (battery support mode) a continuous power source is supplied to the battery until physically removed.
CSU current mode of operation:
To select BSU function – turn the mains on without the battery connected and wait for two beeps within two seconds. Then connect to the battery by connecting the output leads to CSU2 via the yellow connector
To select SSU function – connect to the battery with mains power off, then turn the mains on
It provides a stable voltage and up to 50 amps of fully regulated power to prevent loss of charge and damage to the battery, this was more than enough for most applications.
This low profile unit has been designed mainly for car showrooms and workshops and is only 90mm high and I found that it is quite heavy for such a small unit.
This unit has been designed to slip under most vehicles without scratching the floor surface and also features automatic current sensing in the SSU mode so that it knows when it is needed which is quite clever. It can also be trolley-mounted for workshop applications or fixed to a wall or vehicle lift which is quite useful.
Other conventional battery conditioners simply trickle charge the battery after it has been drained, but this unit provides instant support to the battery eliminating the need for recharging which was very good. It has intelligent sensing in the unit that determines exactly when support is required to minimise unnecessary noise and power consumption.
When this support unit was connected to the vehicles on test, it was ready for demonstration and downloads making sure that the battery was kept in peak condition as well. This product provided constant voltage to prevent the loss of data and possible damage to control units during software updates, and module reprogramming as well as diagnostic processes when used in a key on, engine off position.
During diagnostic and programming operations, on most vehicles' systems they are operating solely from the vehicle battery, therefore maintaining this battery voltage is essential if we aren't going to cause any damage to vehicle systems and components.
The first vehicle I used this unit on was a Mercedez E220 2.2D Blutec 2014 which had Stop/Start problems, battery draining and a fault code for the NOx sensor.
I had the unit connected to the battery for most of the day, in order for me to diagnose these faults without worrying about battery drain and unstable readings with my test equipment. I noticed that the cooling fan of this unit would operate when the load on the battery was increased providing the higher current to cope with the demand.
To test in the showroom mode I switched on the sidelights, kept the doors and boot open and ignition on to stress the batteries and these were on most of the day supporting the vehicle battery with a constant voltage
The next vehicle I tried it on was a KA2 1.3 with the check engine light on and with a fault with the engine management system.
The unit was connected to the vehicle whilst I diagnosed and tested this vehicle and kept a stable voltage for my tests.
This unit is a must-have tool if you are regularly testing circuits under constant battery load, very good quality and robust keeping the vehicles under test at the correct voltages giving you safe and accurate testing results.
An excellent product for supporting the battery whilst testing systems with the need for accurate results.
---
Want to know more? For more information, click
here
.