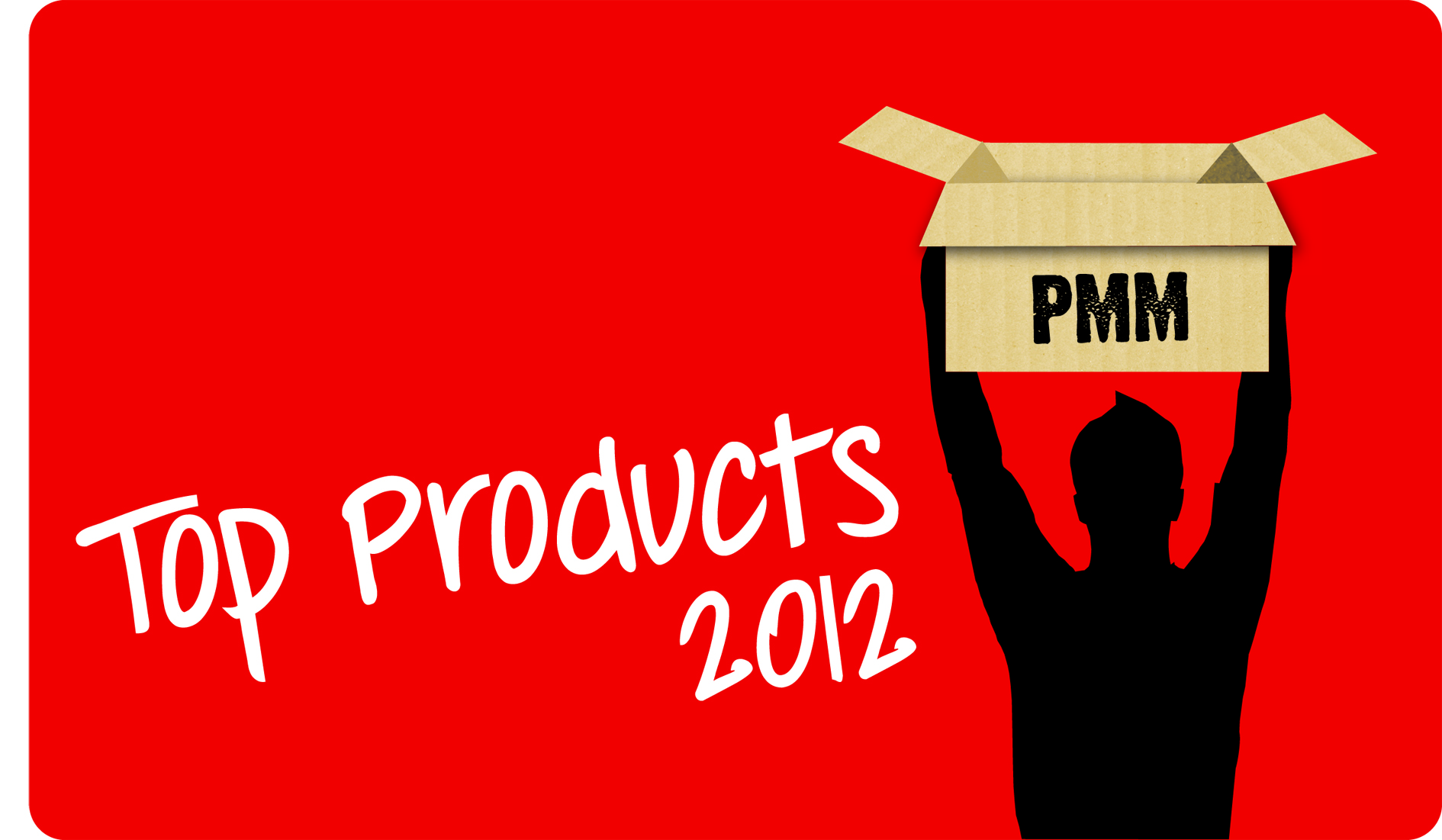 Products & Services
ALLOYGATOR – Wheel protection system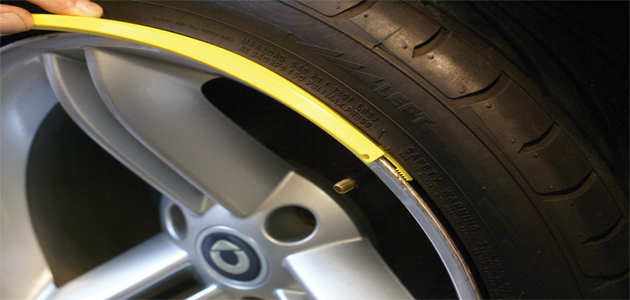 The AlloyGator alloy wheel protection system provides car owners with an affordable solution that protects against scuffs, scratches and other wheel damage.
Developed through a rigorous MIRA testing and development process, and designed in partnership with industry professionals, the AlloyGator protection system comes in nine different colours and sits between the alloy wheel and the tyre, not only protecting the alloy wheel but also enhancing its appearance.
VIDEO: How to fit the AlloyGator wheel protection system
BG PRODUCTS – DAIS Service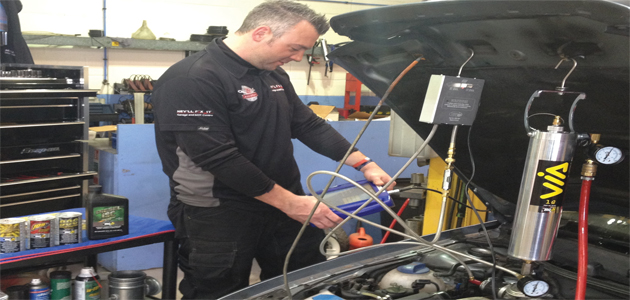 The Diesel Air Induction Service is a complete air/fuel induction and EGR cleaning solution that introduces advanced chemistry through the air intake (or EGR valve) and into the induction system.
The chemistry is formulated to survive the intense heat of the combustion chamber, so by achieving this goal it enters the exhaust stream where it will clean EGR tracts and DPFs.
An 'all round' deposit removal offering, a one hour service will clean the air intake, valves, injectors, EGR tract, piston rings and DPF. In fact PMM contributor Frank Massey has described the flush component of the service as "the best we have come across."
SP DIAGNOSTICS – Revive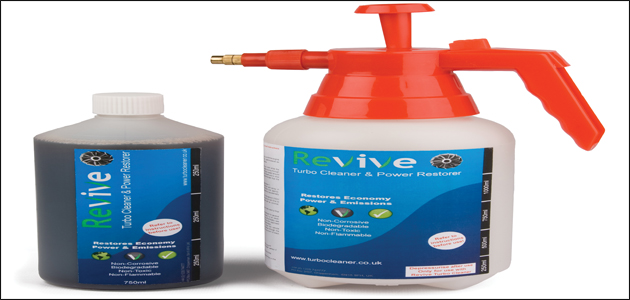 This exciting product offers a cleaning and maintenance solution for diesel engine systems and turbochargers without any dismantling or soaking – saving both time and money.
Originally developed and proven in the jet aircraft, power generation turbine and large marine diesel engine markets, the product (in the form of an aqueous-based non-toxic, eco-friendly fluid) is particularly aimed at the recognised problem of variable nozzle turbine mechanism fouling, helping to avoid expensive turbo replacement. The fluid is simply sprayed into the inlet airflow before the turbo compressor, with the engine running. In a simple three-stage process it cleans as it passes through the compressor, intercooler, engine valves and turbine components.
VIDEO: Find out more about Revive
KALIMEX – K-Seal coolant repair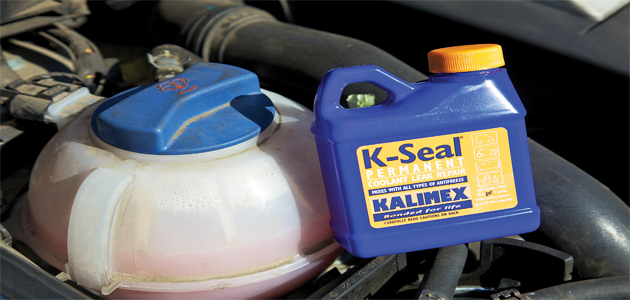 With over 1 million bottles sold in the UK alone, KSeal permanent coolant repair has proved a real favourite of PMM readers over the years.
Designed to fix most leaks in all types of watercooled engines – including cracked heads, head gasket failures, cracked blocks, radiators, heater cores and water pumps – a repair made with K-Seal is permanent and guaranteed for the lifetime of the engine.
The product mixes with all types of anti-freeze and coolant and is so easy to use. Simply shake the bottle, add it to the cooling system and you're ready to go.
Tools & Equipment
BHP UK – Genius ECU programmer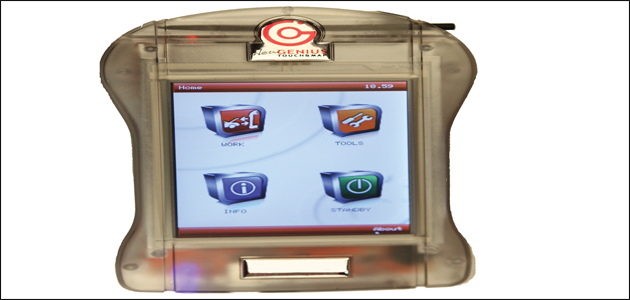 With ease of use and convenience in mind, BHP's ECU programmer has been designed to read and program vehicle ECUs through the car's diagnostic port – meaning 99% of the time there is no need to dismantle the ECU or remove it from the car.
A standalone system that does not have to be plugged into the computer while you read and program the ECU, the 'Genius' offer comes complete with its own dedicated computer software that allows users to send ECU data directly to the team at BHP UK with the press of a single button. In fact, there isn't even the need to open an e-mail program to send the map to.
What's more, all new BHP UK dealerships are given training on how to use the tool and its computer software correctly.
MINI-DUCTOR – Heat induction tool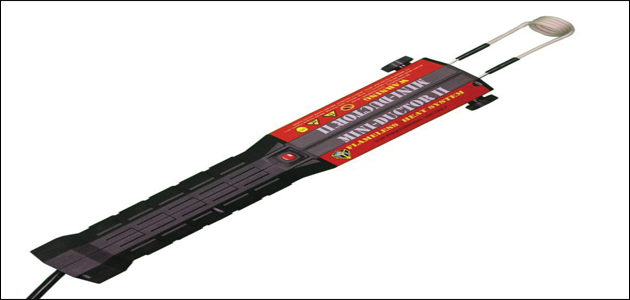 The user-friendly Mini-Ductor II 1kw handheld induction heating system uses innovative flameless cold heat to release seized nuts, O2 sensors, track rod ends and other hardware that has been rusted/thread-locked into place.
As it doesn't use a flame, there's no collateral damage that can often be associated with an open flame. The product is CE marked and safe, as its flameless heat is localised, with only the part becoming hot, not the tool.
The basic kit comes with three different coils to remove various types and sizes of hardware and the bendable coils can be usefully shaped to fit into hard-to-reach crevices and tight spots.
RANDSTAD – TerraClean de-carboniser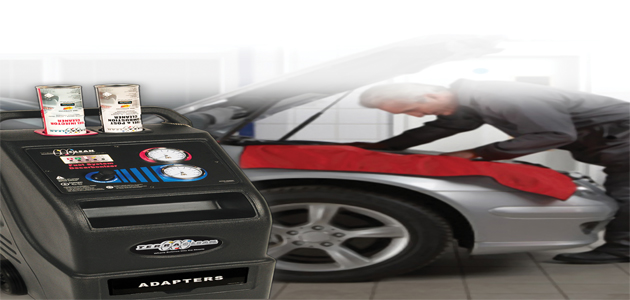 Carbon deposits are the by-product of combustion inside the vehicle's engine. This build up will affect the efficiency of the engine and can typically result in reduced performance, reduced fuel economy and increased emissions.
TerraClean offers a solution to this problem and comes with the bold claim that it is the only de-carbonising service of its kind – in the world!An advanced and effective de-carbonising solution – TerraClean is ideal for today's higher compression, multi-valve, direct injection, petrol and diesel engines with the capability to restore MPG, reduce emissions and regain vehicle performance.
VIDEO: The de-carboniser was recently given the full treatment, and thumbs up, by TV's Wheeler Dealers
WERA TOOLS – Joker combination ratchet wrench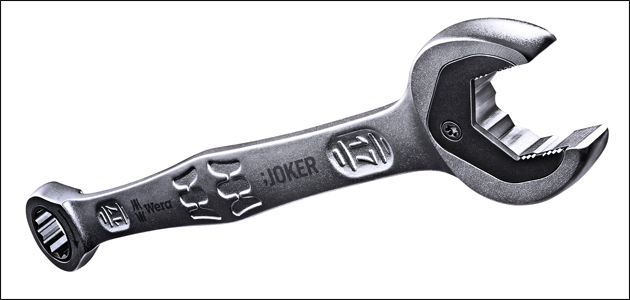 This combination ratchet wrench boasts some fantastic innovative features. The 'Joker' offers a practical holding function that allows nuts and bolts to be held in the jaw and easily positioned where they're needed, while an integrated limit-stop function prevents the fastener head from slipping off.
The tool's clever double-hex geometry delivers a positive connection with nuts or bolts for a perfect fit and an exchangeable, hardened metal gripping plate in the mouth literally bites itself into the bolt.
With this product, you can loosen and tighten nuts and bolts in situations where conventional tools might fail, particularly in confined spaces.
Diagnostics
KAPDIAGNOSTICS – AVDI interface unit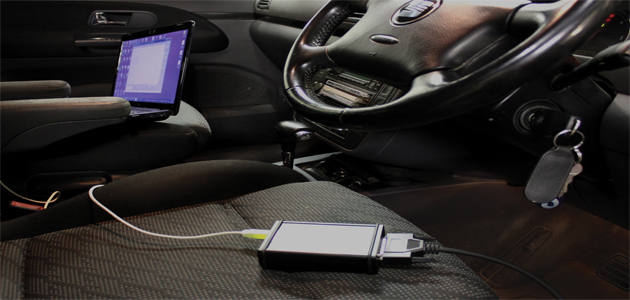 The ABRITES Vehicle Diagnostic Interface (AVDI) is designed to communicate with almost any vehicle on the market via OBDII and is compatible with all the various ABRITES 'Commanders' (vehicle diagnostic software) such as VAG, Porsche, Mercedes, Opel, Toyota, BMW, Renault, Fiat, Peugeot, Nissan, Toyota, Chrysler and Ford.
With an SAE J2534 fully compliant driver included, the tool is compatible with Tech2Win, Volvo VIDA, BMW DIS, Ford Scanner and Subaru Select Monitor III amongst others.
Users can also purchase specific special functions to allow them to perform tasks such as key programming, security code extraction and odometer correction.
EEC – DPF reset tool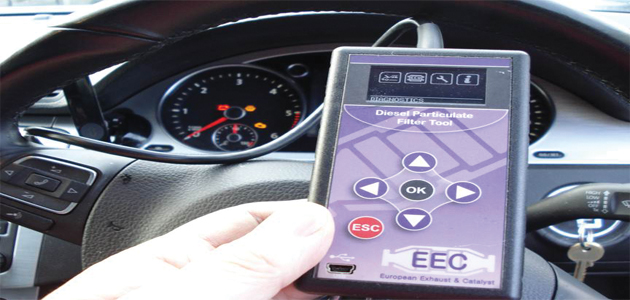 DPF diagnostics procedures have so often been the domain of the main dealer, but that's no longer the case as this specialised handheld Diesel Particulate Filter (DPF) diagnostic tool allows garages to regenerate DPFs, reset the EOLYS additive light, identify DPF fault codes and perform a static regeneration.
Simple to operate, the bespoke unit uses a pushbutton operation and supports vehicles from 2,000 onwards.
SPX – OTC scan tools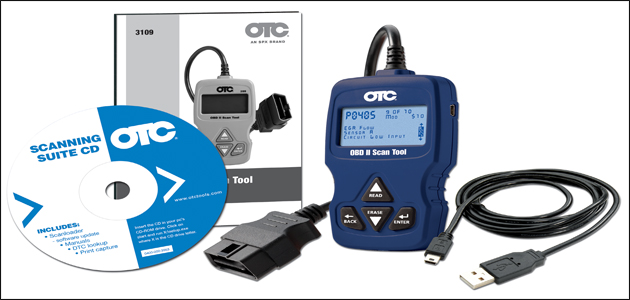 Two cracking diagnostic scan tools, available from SPX, feature essential workshop functions and compatibility with both diesel and petrol model vehicles.
The OTC 3108-EOBD pocket scan tool helps technicians to identify faults and clear warning lights as well as providing live engine sensor data, freeze frame data, VIN info and Inspection Maintenance (IM) readiness testing by displaying its monitor status.
Unlike its aforementioned sister tool, the OTC 3019-advanced EOBD scan tool also provides graphing of live engine data and offers 27,000 manufacturer-specific definitions on-screen. Graphing of live data helps the user to pinpoint component problems by viewing vehicle sensor, switch and actuator inputs in real time – while the engine is running.
TECNODIAGNOSTICS – TPMS 02 tool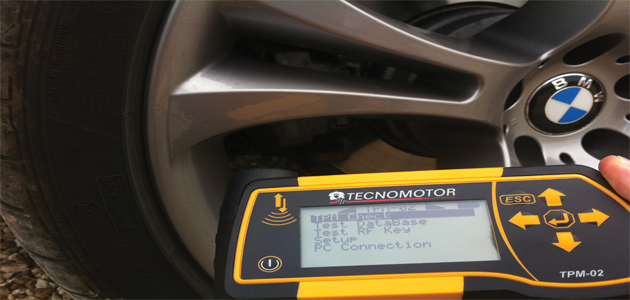 The TPMS system informs the driver of an underinflated tyre; this is not only beneficial in terms of alerting the driver to how economically their vehicle is being driven but it is also a crucial driver safety aid.
To be able to work on and repair these systems technicians will require specific tools to diagnose faults that may occur along with other specific functions like the programming of tyre valve sensors.
The TPMS 02 tool allows users to check sensors for proper operation and batteries upon check-in or delivery, investigate and troubleshoot malfunctions without delay, access technical specifications for repair procedures and undertake sensor reprogramming via the vehicle's diagnostic socket.
Literature & Garage Aids
NGK SPARK PLUGS (UK) – Lambda Sensor Q&A booklet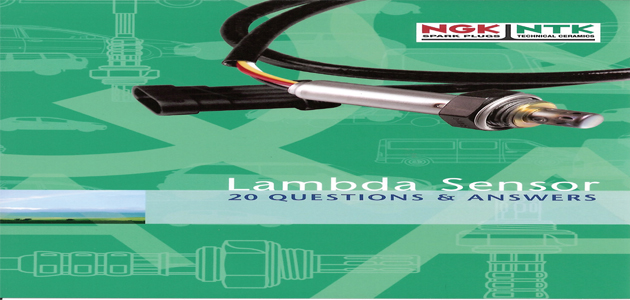 As today's engines become ever more sophisticated and fuel efficient, the role of sensors has become increasingly important.
NGK Spark Plugs (UK), in the shape of its NTK Lambda Sensor brand, has therefore produced a brilliant Q&A guide to help technicians understand how these components work, why cars need them and the part that different sensor types play.
To help technicians in their work, a selection of sensor identification, fault diagnosis and installation tips and techniques are also included.
REMY AUTOMOTIVE – Fault finding poster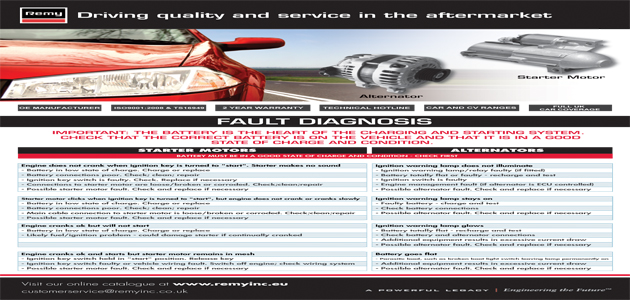 This fault diagnosis poster from Remy has been specifically designed to help garages properly diagnose vehicle faults before fitting a new starter or alternator.
The poster has been created to emphasise the vital role of the battery as the heart of the charging and starting system. Additionally, it stresses the importance of – before diagnosis has even begun – checking that the correct battery is on the vehicle and that it's in a good state of charge and condition.
CAMBIARE – Technical booklet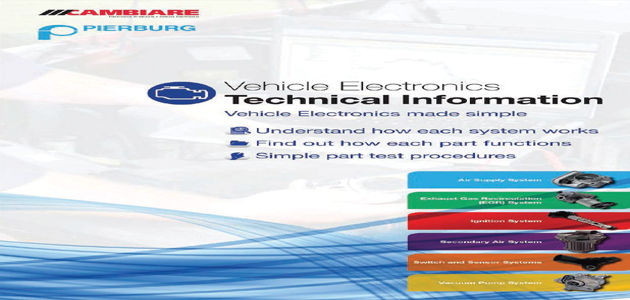 In partnership with Pierburg, Cambiare has developed a technical booklet for garages. Entitled 'Vehicle Electronics – Technical Information' this excellent guide offers lots of handy hints and advice to assist workshops in understanding how systems work, the function of individual components and how to perform simple test procedures.
COMMA – Workshop application guide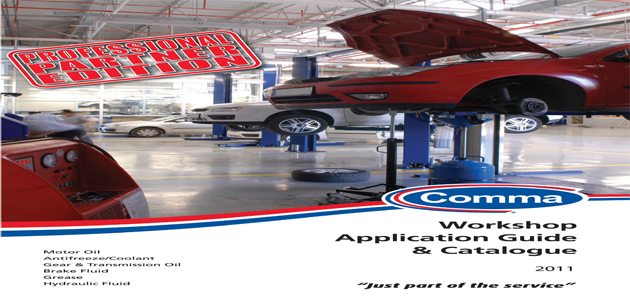 This definitive guide has been available for some time now, yet it is still as popular as ever with PMM readers, proving that an understanding of applicationspecific oils is a must for the modern day technician.
With fully updated applications for every Comma engine oil, antifreeze/coolant, gear/transmission oil and brake fluid the guide enables users to cross-reference data for no fewer than 6,300 passenger car and 1,172 LCV models against the product information.
Comprehensive details of all the upgraded ACEA specifications and new product introductions are also included.