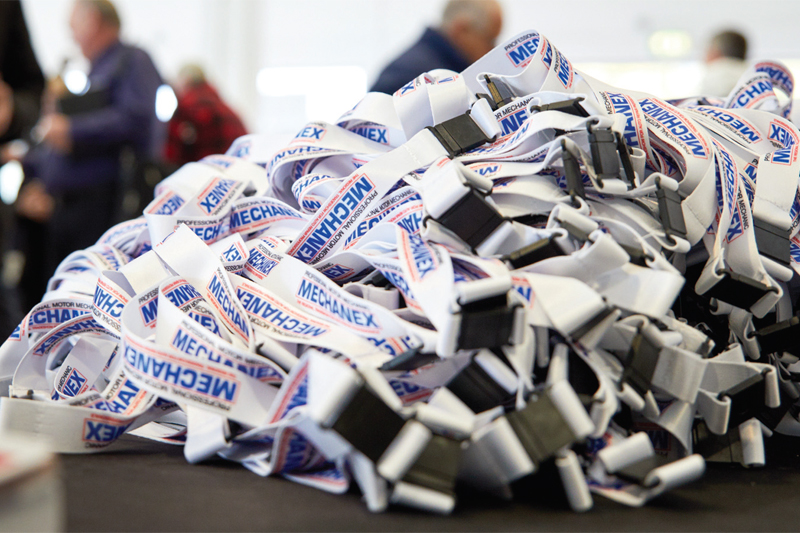 ---
MECHANEX has announced it's return for 2021 and will be heading to Sandown Park, Surrey, 9th & 10th November. Here, we present a run down of what to expect from the show including exhibitors, the seminar schedule as well as exclusive offers available throughout the two days.
---
Get back into the game this year
The UK's only regional trade show dedicated to garage businesses is back again in 2021, with a fresh approach and a host of exciting new content. The automotive aftermarket is evolving at an alarming rate, so it's more important than ever that you stay on top of the latest technology, training, products and information available to your business. Attending MECHANEX is the perfect way to ensure that you are up to speed.
It's an unmissable opportunity to attend FREE seminars, sample the latest products on the market, and take advantage of exclusive show special offers. So, why not bring the full workforce along and make a day of it?
Seminar programme for 2021
2021's MECHANEX seminar line-up will feature a number of esteemed industry experts and iconic industry figures. Among the fresh faces will be: Hayley Pells, Avia Autos, whose business-savvy approach has seen her grace the pages of PMM and other publications many times over the years; and Dave Reece, School of Thought, who is dedicating his time and effort to bringing in young talent to the industry. Returning to the seminar stand this year will be Neil Pattemore, the champion and expert of the independent aftermarket, and Steve Coles from the IGA. Also making a return to the show is show veteran Steve Carter, ready to keep us all abreast on the rapidly evolving EV sector. After a year and a half of unprecedented events with major ramifications on the aftermarket, we're sure you have as many questions as we do, so make sure to come along and get involved!
MECHANEX main seminar theatre
Essential technical and business advice, tailored to independent garages, delivered by industry experts.
Day 1 & 2: 9th – 10th November
10:30 – HIGH VOLTAGE PATHWAY: Hayley Pells
Avia Autos' Hayley Pells outlines some of the challenges facing small independent workshops on the route to hosting electric vehicles.
11:30 – DATA AND THE INDEPENDENT AFTERMARKET: Neil Pattemore
Neil Pattemore discusses the ramifications on the Independent Aftermarket of Original Manufacturers imposing restrictions on access to data, hindering the Right to Repair.
12:15 – ATTRACTING TALENT: Dave Reece
Dave Reece, head of the School of Thought programme, discusses what the automotive industry needs to do to attract young people into the industry.
13:00 – MOTS: Steve Coles
Steve Coles, Head of MOT Technical Operations at the RMI, will be updating the Mechanex audience on the latest changes and developments in MOTs.
14:00 – TBA
Exhibitors
Autowave
Stand: D54
Autowave's friendly and professional team will be helping visitors to the stand and are able to offer honest advice and information on a large and varied range of products. The firm is the UK's largest aftermarket auto-locksmith equipment supplier, and the official, exclusive UK distributors for OBDstar, XTool, BossComm, Yanhua ACDP, Lonsdor, Auto-XT, CGDI, JMD, Atten and RAV as well as being the largest authorised dealer for Xhorse and Mr. Li products. Visit the stand to view the full range of tools including the large selection of remotes, keys, transponders, lock picks and key cases.
PCL
Stand: B30
Sheffield-based tyre inflation and pneumatics expert PCL will be showcasing its new ranges, including the ERGO & ERGO Extreme blowguns, as well as old favourites such as the market-leading linear AIRFORCE MK4 and digital ACCURA MK4 tyre inflators, which now come with an extended two-year warranty. PCL has recently extended the warranty of its improved core lines of high quality, "Made in Sheffield" blue band couplings to five years – which can be found on stand B30. PCL also offers a wide variety of air tools, air accessories, tyre care and hose products. Each product has been built to last using quality components, which aim to ensure optimum reliability.
Autocare
Stand: D56
Find out the benefits that Autocare could bring to your garage by signing up to the Autocare garage programme from GroupAuto. Autocare is the UK component of the Eurogarage network, an international garage programme spanning two continents. Over 900 independent service and repair garages throughout the country are already a part of the UK network.
Sealey
Stand: D52
Since 1979, Sealey has been providing customers with the best value, the best products and a service that is second to none. The firm has become one of the largest tool and equipment suppliers in the UK and is recognised as a leading brand by both professionals and enthusiasts alike. You will find Sealey on Stand No. D52 where you can chat with the team, see a huge range of the latest products, including the new CP108VCP and CP108VCID from the SV10.8 Series. Don't forget to pick up copies of the latest promotions, collect your free goody bag and the newest edition of The Tool Catalogue.
IGA
Stand: TBA
With the many advancements being made in the industry across both technology and legislation, it's important for independent garages to have a trade body they can rely on. The Independent Garage Association (IGA) helps independent garages to thrive in all aspects of their business by offering advice, information and services which ensure that the sector can remain efficient and competitive in an increasingly complex business landscape. Join the IGA on their stand, where the team will be on hand to advise you on all aspects affecting today's garage businesses.
Launch
Stand: D32
Launch UK prides itself on developing cutting-edge aftermarket tools that provide solutions to customers' problems at all levels – from independent garages requiring OEM level diagnostic tools, to the DIY enthusiast requiring a hand-held tool to assist with fault finding. As the only official importer of Launch products, purchasing direct from Launch UK ensures that customers are receiving guaranteed genuine products, dedicated technical support and fast and safe delivery methods. Launch has been developing diagnostics equipment for the United Kingdom since 2003.
Kalimex
Stand: B22
Kalimex is the UK distributor for K-Seal, Quiksteel and JLM Lubricants, the professional additives specialists. Kalimex is promoting a new campaign to help professional mechanics learn more about DPF problems and how to solve them. Too many DPFs are being unnecessarily damaged due to forced regens or overuse of additives which costs the motorist money and drives business away from the independent aftermarket. Kalimex and JLM can help the independent technician understand these diesel and DPF problems, which in turn will help to boost your business. Visit us on stand B22 and enter our prize draw to get your hands on some great goodies.
Pimp my Box
Stand: B12
Pimp My Box will be displaying its Genie-Lock Automatic toolbox locking system which locks a mechanic's toolbox when they walk away and unlocks it when they approach, with no keys needed and no remote control. The system works simply from a mobile phone. This retro fit system fits a wide range of roll cabs with more options coming soon. At the show, visitors will be able to test the Genie-Lock with their own phone and see it in operation before they purchase. There will also be some previously unseen models on display which are in the final prototype phase for customers to pre-order. There will also be Show Only deals available.
VARTA
Stand: D60
VARTA Batteries will be showcasing the very latest in automotive battery technology to the UK's most forward thinking workshop technicians at Mechanex 2021. The team will be on hand to discuss the challenges of battery replacement on modern vehicles and how the company can provide solutions to make battery-related jobs easier and more efficient. Visit the stand to learn about the Partner Portal, the free-to-access online platform which includes all the tools technicians need for battery replacement. Also on show will be the latest Absorbent Glass Mat (AGM) & Enhanced Flooded Battery (EFB) types available for the aftermarket and views on future battery technology.
Free gift – The first five people to visit Impact Diagnostics on Stand D70 will receive a free gift!
Exhibitor List
Absolute Alignment
AC Tronics Ltd
Alldata UK Sales Ltd
AP Air Ltd
Aston Lark Ltd
Autogem Invicta Ltd
Autologic Diagnostics
Autoparts (UK) Ltd
Autowave Ltd
Bartec Auto ID Ltd
Continental Automotive Trading
Cooling Edge Ltd
DCR Ltd
Diagnostic Connections
Dometic (UK) Ltd
FFED UK Ltd
Garagehive Ltd
Gloforce
Groupauto
Haynes Pro
Hickleys Ltd
Impact Tuning & Diagnostics
Initiative Media London
Ivor Searle
Jack Sealey Ltd
Kalimex Ltd
Kap Diagnostics.com Ltd
Launch UK Ltd
MAM Software
Maverik Diagnostics
NGK Spark Plugs UK Ltd
Pichler Tools Ltd
Pico Technology
Pimp My Box Ltd
Pneumatic Components Ltd
Powerflow (BG Products)
Premier Diagnostics
Prevost
Ring Automotive Ltd
Rotronics Battery
Management Solutions
Shaftec Automotive
Components
SIP Industrial Products
The Test Centre Training
Tunap (UK) Ltd
V-Tech
V-Tech (Carbon Clean)
V-Tech (Carbon Clean Engineers)
Webseller Pro Ltd
---