---
PMM has gone behind the scenes at Schaeffler to discover why the INA brand is trusted by vehicle manufacturers (VMs) and aftermarket technicians alike.
---
Schaeffler's INA brand offers OE components for all four key engine systems – in the form of the timing drive, auxiliary drive, valve train and cooling system – all from a single source. In bringing all of the key engine systems under one brand, the company says it "makes life easier" for customers.
Four key systems
The goal of the VM is to reduce fuel consumption and CO2 emissions whilst improving driver comfort. To meet these targets, more and more power units are being downsized or hybridised, leading to increasingly complex systems and repairs. And because these smaller, lighter, slower-running engines generate higher loads and more vibration, extra strain is placed on system components, such as those found in the timing drive.
Workshops should be looking to source products that not only make it easier for technicians to carry out these tougher repairs, but which can handle the higher loads and increased vibration levels for the maximum possible service lifetime. This is where OE suppliers, such as INA, can help.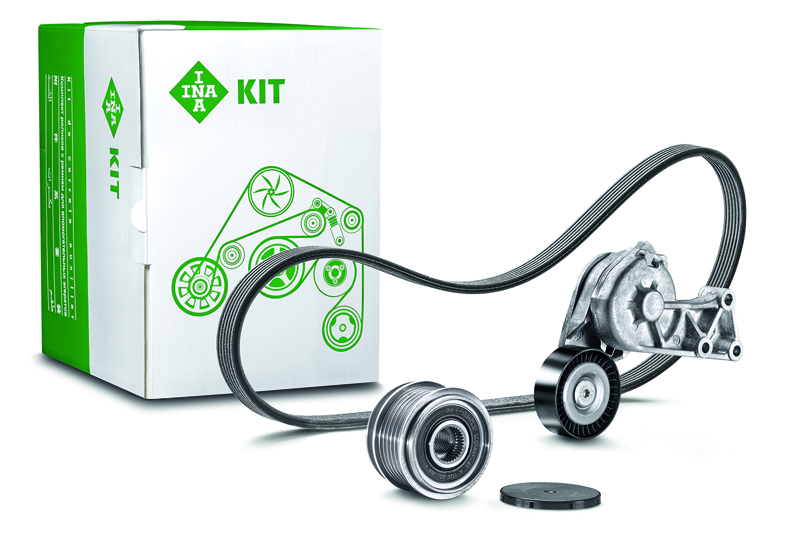 Timing drive
The first key system is the timing drive, available in a range of kits for both belt and chain driven engines. These kits contain all of the OE components needed for a professional system replacement: timing belt or chain, tensioners, pulleys – basically everything down to the last nut and bolt.
Belt-driven water pumps are also affected by wear, so INA has catered for that possibility by offering more than 230 'KIT+' variants, which include a water pump, as well as thermostat, if necessary.
FEAD
It doesn't stop with timing – don't forget FEAD, the second key system. Air conditioning, power steering, start/stop: as more engine and safety-critical components are added to the FEAD system – and its technical complexity increases – the load placed on the components increases with them.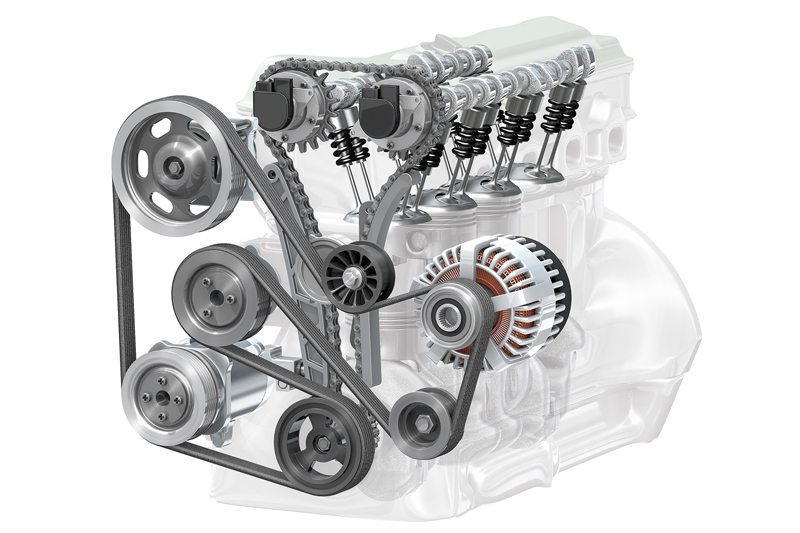 Replacing just a single worn component alone may help in the short-term, but it can create serious problems in the long-term. In most scenarios, the real cause of the failure may rest with another component that is more difficult to diagnose. FEAD should be treated in the same way as the timing system, which is now routinely completely replaced, and this is why INA offers a comprehensive range of FEAD kits. Of particlular interest for technicians, each FEAD kit is engine and application-specific, so every component needed for a full system replacement is included in the box – a complete repair solution. As well as the belt, tensioner and pulleys, an overrunning alternator pulley (OAP), torsional vibration damper (TVD), water pump and other ancillaries could also be included, depending on vehicle requirements.
Valve train
The third key system is the valve train. Products in the INA stable include both hydraulic and electric variable camshaft timers, valves, bucket tappets, finger followers, swing arms, rocker arms and bridges.
As explained above, reducing fuel consumption and CO2 emissions are key targets of engine system designers, and the most efficient way of helping to meet these targets is by 'cooling on demand' – in other words, controlling engine heat flow using a Thermal Management Module (TMM). The TMM, acknowledged as the latest generation of integrated cooling systems and the fourth key system, is designed and produced by Schaeffler for OE fitment and is exclusively distributed to the aftermarket by INA.
Thermal Management Module (TMM)
The TMM uses sensor- controlled rotary vanes to accurately regulate the temperate balance throughout the powertrain, allowing optimal temperature to be reached quickly in up to three
additional controlled circuits, such as the gearbox, engine oil and turbocharger. A TMM controls engine temperature right from start-up, resulting in a significantly quicker 'warm-up phase' and a reduction in CO2 emissions by as much as 4%. It has so far been fitted to more than 1.5 million Volkswagen Audi Group vehicles.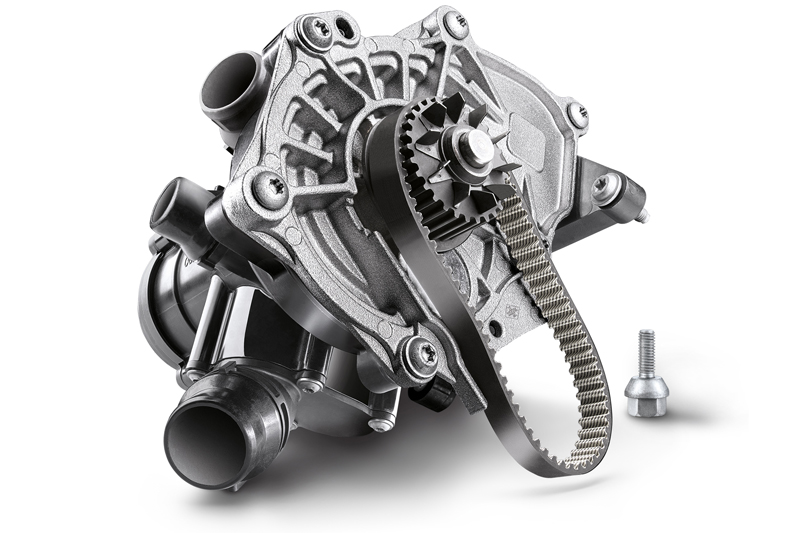 INA has also introduced a brand new range of water pumps. Traditional, intelligent, electronically-controlled and fully-electronic water pumps are available, providing technicians with access to one of the most comprehensive ranges of genuine OE quality water pumps on the market, says Schaeffler.
---
Information on INA and other
Schaeffler
products and systems can be found on the
REPXPERT
portal,
click here
.