---
Back in February 2017, PMM spoke to mobile technician Louise Baker about her company, Womanic. Two years on, we find out what she's been up to since then.
---
PMM: Since we last spoke to you in 2017, how has the company progressed, and what have you been up to?
Louise Baker (LB): When I first started, I was booked up for four weeks in advance and now I'm booked up for over a month. Before I was just doing servicing, MOTs and normal repairs, which was pretty much self- sufficient. Eventually, I found myself wanting to do more, and I had a lot of women asking me how to do all sorts of things, such as how to check their oil and their tyre pressures, so I launched a course called Heels to Wheels. This received a lot of media coverage, including from the BBC and Channel 5 News. In March I did my first training course, which was sold out – as was the May course – and people are already enquiring about June, so I'm doing one a month from now. I'm only teaching them the basics, and I teach them what to look and check for when they're buying a second-hand car.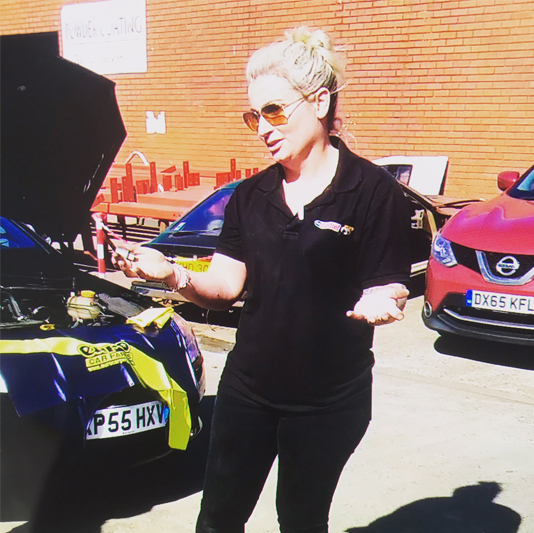 PMM: Have you considered bringing anybody else into the company to help you out?
LB: I need someone else because it's too busy right now. I'm taking on an apprentice in September from Solihull College. Of course, leaning on someone else and trusting them to help run the business is risky.
From my experience, I'd like to have two people as well as myself on the team; an older person who has been on the stands for years, and a younger person, who's going to know so much more than even I know, because they're going to learn about hybrid and electric vehicles, which I can benefit from.
PMM: Has your recent coverage in the mainstream media boosted the profile of Womanic?
LB: I've had random people getting in touch with me sending me their support. I want to get an investor because I want to develop the company; I even thought about Dragons' Den, but I want a company to invest in Womanic because it's more sustainable.
Following the BBC coverage, I had a lot of people booking in for MOTs and servicing, but I had even more people interested in doing more media, which has led to it all spiralling.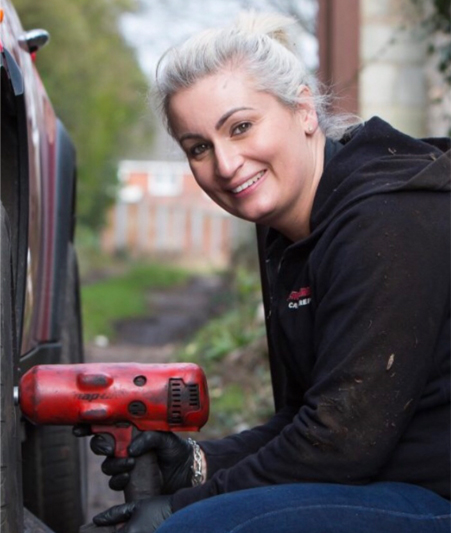 PMM: Do you feel that this coverage has helped in attracting more women into the industry?
LB: There's definitely more work to be done in that regard. I think that women think that it's difficult to get into or that they won't be very good at it if they don't have the strength, but they probably don't understand that there are certain tricks you can learn; you don't have to be a muscle man!
I hope that I'll play some kind of role in the change. I've got a contact in America, Audra Fordin, who's an ambassador for women in the States getting into the auto trade; she runs Women Auto Know. I believe that she could help to raise the profile of women in the trade here as well, so hopefully something will come out of our conversations.
PMM: Why do you think it has become difficult to recruit people – especially young people – into the automotive industry?
LB: Mechanics have such a bad reputation, but is based on a misconception. For apprentices, I don't think they're encouraged enough to start buying their tools early on, because if they do so, they'll have a brilliant collection by the time they're qualified.
I think it's important that young people in particular are encouraged to learn the business side of things as well so they can combine the two and run their own garage one day. They don't want to just be plodding along, which is what I'm terrified of doing myself. I personally have had to teach myself the whole business side of running Womanic, so I wish I could have gone to college and learnt these things.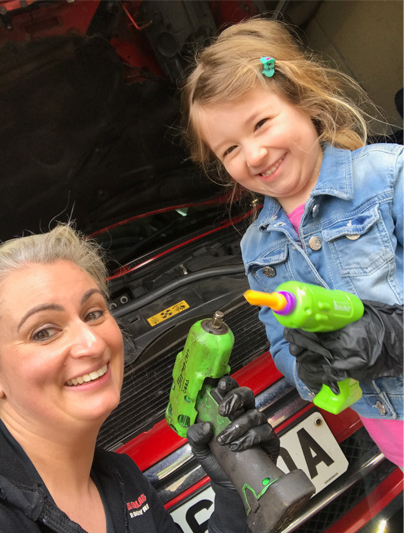 PMM: What are your views on the technological changes in the automotive industry, and how have they affected your job?
LB: I haven't really had to deal with hybrid or electric vehicles yet. I'm not too concerned about it yet; they'll all be brand new vehicles with long warranties. Hopefully Kyle, my new apprentice, will be able to deal with that side of the business with everything he's going to learn as he's training.
PMM: Would you encourage other technicians to go mobile?
LB: It's so much more convenient for my customers that I'm able to go to them as opposed to them travelling to a garage, especially if they're busy with work or their children. I feel that if I was to have my own premises, I would lose that connection with my customers; it wouldn't be as personal.
If you're thinking about going mobile, make sure you're covered and advertise yourself, but most importantly, don't be scared, just be confident.