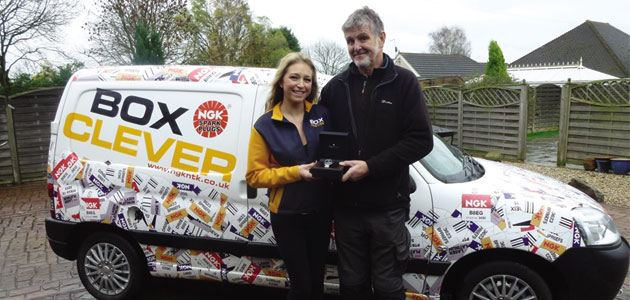 The BoxClever initiative has been a huge success since its launch more than 10 years ago, with thousands of garages having benefitted from the free gifts on offer. As NGK celebrates its 40th anniversary in the UK, BoxClever is now set to step up a gear.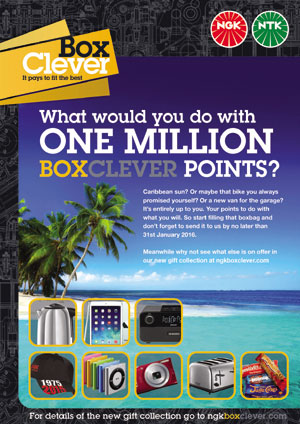 The revitalised scheme will offer new and exciting prizes, increased points for parts purchased, improved communication of promotional offers and the chance for members to win a whopping one million BoxClever points in a fantastic prize draw… enough for garages to exchange for prizes that could be a once-in-a-lifetime holiday or even a new car or van.
Buy more, get more
The concept of BoxClever remains simple: the more you purchase, the greater the rewards. Following the purchase of NGK spark plugs, glow plugs, NTK sensors and ignition coils, scheme members are encouraged to collect the single boxes that the products come supplied in and these are then returned in exchange for prize points.
With a value designated to each of the boxes, points are then accumulated and added to the user's account once NGK has confirmed receipt of the packaging. These points can then be used to claim a number of fantastic free gifts, as and when the member has raised enough capital to cash in.
NGK Spark Plugs (UK) Marketing Manager, Mark Hallam said: "BoxClever has proven to be extremely popular since launch but, as we celebrate our 40th anniversary as a UK subsidiary of Japan, we wanted to make it even better and have come up with a number of initiatives to make it even more attractive to our members."
Points promotions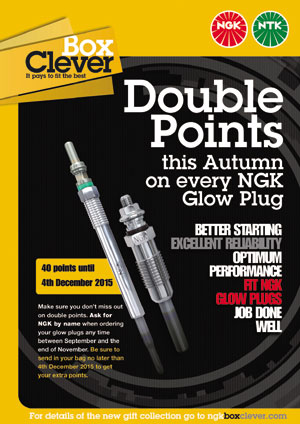 In terms of points structures, NTK NOx, EGT and Lambda sensors, together with ignition coils, are now worth 100 points per single box, glow plugs are worth 20 points, NGK precious metal spark plugs 10 points and other NGK spark plugs five points. However, as part of the latest promotional campaign, glow plugs will be worth 40 points a box until December 4, making it even more important for BoxClever members to specify NGK and get their claims in fast.
In addition the company has improved its BoxClever website at ngkboxclever.com which is compatible on mobile devices and has revised the gift range categories to include: road & track; beer & wine; sound & vision; technology; gaming; garage break; 'something special'; 40th anniversary clothing; and snacks & treats.
Mark is encouraging BoxClever members to return their boxbags and bank their points quickly and regularly before the January 31, 2016 deadline. He said: "A million BoxClever points are ready and waiting to be won. The more times you bank, the more chance you have of earning a free entry into the Millionaire Prize Draw. Just 'scratch 'n' see' if your banking form is a winner."
NGK has already sent a mailshot out to members, outlining the changes to the scheme. The company also plans to increase its direct communication with garages in the future so that they can be kept abreast of the last promotions and activities.