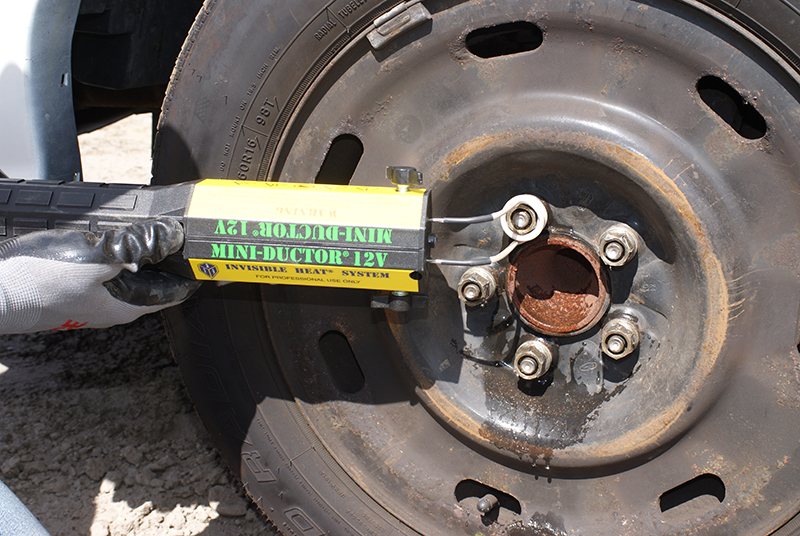 ---
Induction Innovations takes the PMM audience step-by-step through the process of removing a seized lug nut, using the battery powered Mini-Ductor unit.
---
Mobile mechanics and technicians do not always have access to an outlet when repairs are needed. That is why releasing rusted components quickly, with a portable tool can make a dramatic difference in the field. Luckily, Induction Innovations manufactures powerful induction heating tools such as the battery-powered Mini-Ductor 12 V (MD-500CE) specifically for seized lug nut removal in the field or roadside repair.
The tool can be used for several applications (including exhaust manifold bolts, inline connections, O2 sensors) where rusted, corroded, or thread-locked parts need to be removed quickly and safely when you are not near an outlet.
Induction vs. traditional torch
Induction Innovations produces induction heating products that generate an invisible heat to quickly heat ferrous and some nonferrous metals. These tools provide a safe and reliable alternative to using an open flame.
The advantage of using induction heat for vehicle repair is that some parts can also be re-used. The flameless heat is localised on the part and not the surrounding area, which in turn produces less collateral damage.
The Mini-Ductor 12 V (MD-500) is a completely portable, battery-powered induction heating unit. This unit runs off a 12 V battery pack, whether that be from a car, van, or truck battery. The kit features 12 V battery clamps and a 9 ft. cord, which provides extra length for quick and easy mobile repair.
Like other Mini-Ductor models, the MD- 500 features a bright white LED lamp that illuminates your work surface and coil-securing thumbscrews. It features a durable reinforced thermal plastic housing and a slip-resistant grenade-style grip. In addition to that, it includes discharge battery protection, thermal overload protection, reverse polarity protection, and over-voltage protection.
The MD-500's output is up to 840 watts with a fully charged (or new) 12 V battery. The kit includes an operating manual, oneyear warranty, a custom rugged carrying case, and three coils:
■ 7/8 in. Pre-Formed Coil (MD99-601)
■ 23 in. U-Form Coil (MD99-602)
■ 1 in. Pre-Formed Coil (MD99-610)
*Note the Bearing Buddy coil does not work with the MD-500
Step-by-step
Remove a seized lug nut using the following steps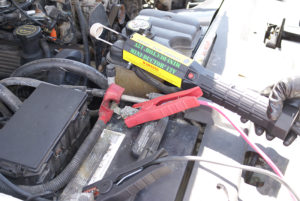 1. Open the vehicle's bonnet and attach the 12 V clamps to a vehicle battery or 12 V battery pack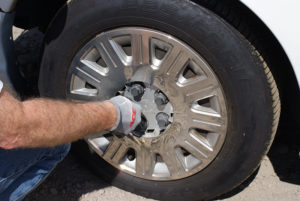 2. Remove the wheel cover to gain access to the lug nuts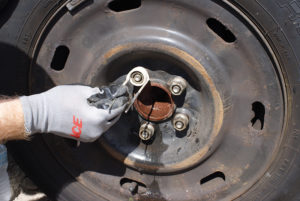 3. Find the correct sized induction heating coil by holding a coil up to the lug nut you want to remove. Make sure there is enough space to leave a small gap between the nut and the coil. If your coil is too tight against the lug nut, you can potentially burn up your coils quickly and potentially short out your unit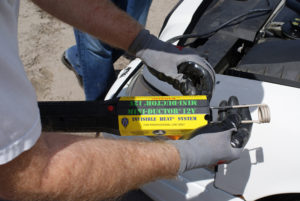 4. Lock your induction heating coil into the Mini-Ductor 12 V unit by inserting the coil ends into the unit and turning the thumbscrews simultaneously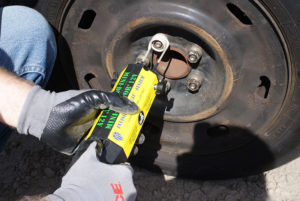 5. Heat the lug nuts in cycles of 10-15 seconds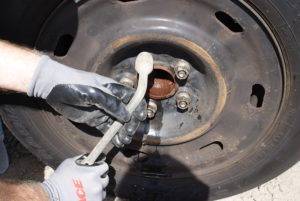 6. Try to loosen the lug nut and see if it will come off. If it does not loosen, keep repeating the 10-15 second cycle until you can get it loose
7. Remove the lug nut
---
Want to know more? For more information, click
here
.