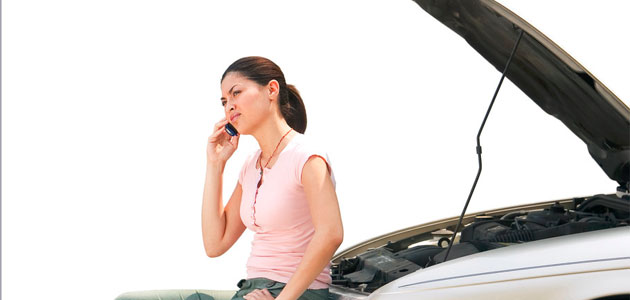 As a website connecting car owners who need servicing work to local garages, Who Can Fix My Car are in an enviable position when it comes to data. Since launch they say that they've "watched one-man bands take customers from household names, mobile mechanics from workshops, fast-fitters from franchised dealer groups, premium from value… and vice-versa, of course!"
As a result they know what it takes to win business against local competitors and are here to reveal some top tips to PMM to help garages generate new business on their own terms. Thier research shows that winning servicing work has NOTHING to do with the sign above your door, and everything to do with customer interaction guidelines, which anyone can follow. 
It's all about SPEED!
How important is it to respond quickly to an email or web enquiry? In short, it's vital. Quote within an hour and you're 3.6 times more likely to win the business than a slow-responder. Even taking two hours costs you almost 20% of your potential business. Take a day, and you've halved your chances. And taking two, as you might over a weekend, for example, means you win just 28% as much work – 3.6% less than a fast response would.
Why? Well, Google's Gearshift research shows that the average driver visits 3-4 different online sources, over an 8-day period, before choosing their servicing outlet. In short, you're almost certainly not the only garage they've contacted! By being first out of the traps you can communicate with a customer, answer their questions and book them in, before the competition have even responded.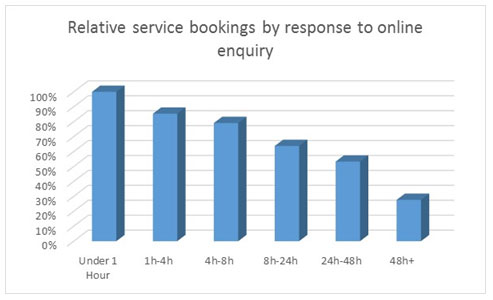 What does best practice look like? Some of Who Can Fix My Car's best-performing garages have put a few simple steps in place that put them at an enviable advantage compared to local competitors. And it's so easy. Here are the top tips for Who Can Fix My Car garages:
We send notifications via email and SMS, so c

heck your phone for our emails and texts regularly. Are notifications being sent to the right person, or do you find yourself under the bonnet when that big job comes in? Or is there someone in the garage who can monitor and reply on your behalf? Some of our top performers have employed an additional staff member purely to handle enquiries – because the incremental revenue this generates more than covers their salary!

Monitor evening and weekend jobs. When do you take the time to make key decisions online? As often as not, consumers do so at home, a trend that has been heightened by the ubiquity of smartphones and tablets. And the rules don't change: speedy responses win work.
That said, no-one can be available 24/7, of course. So can you share this responsibility around the business?