---
In a market that is saturated with companies offering financial incentives to attract prospective customers, the AA says it is constantly striving to find innovative new ways to help its member garages generate new business.
---
Having recently launched the 'AA Certified' initiative, many of those businesses listed on the Garage Guide that have opted to take advantage of the AA's 'Certified' accreditation have reportedly seen a dramatic increase in the number of bookings taken through the site. Gaining greater exposure to motorists on the website and through email communications – such as MOT and service reminder emails – has seen Certified garages enjoy four times more bookings, profile views and phone calls than their non-Certified counterparts.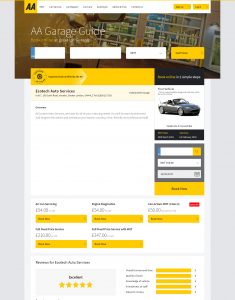 The AA assists these businesses even further by encouraging its patrol network to take recovered vehicles to a 'Certified' garage wherever possible. As the UK's largest breakdown provider, The AA has over 2,700 patrols, compared to approximately 1,500 patrols for the second largest provider in the UK. This vast fleet of dedicated vehicles presents a significant revenue opportunity for those garages that have received 'Certified' status.
The AA is only too happy to steer customers towards these service centres as it is confident in the quality of the work undertaken, having subjected them to an inspection carried out by the AA's own inspection team.
Certified member garages also agree to the 'Garage Promise', which guarantees customer transparency, quality of work, and customer confidence while providing additional reassurance by ensuring that Alternative Dispute Resolution (ADR) is offered.
The inspection assesses both the customer's experience and the workshop's practices, scrutinising all legal compliance and ensuring that the equipment and staff qualifications meet with the required standard. Those that pass will receive their 'AA Certified' inspection certificate, accompanied by physical branding for their workshop, digital branding for their own website and an enhanced listing on the website.
Since its launch in January, over 300 garages have already signed-up to the scheme, including Ecotech Auto Services, a recent recipient of the Garage Guide's 'Garage of the Month' award. Talking about the garage's Certified status, Florinela Petre, one of Ecotech Auto Services' company directors, said: "After becoming Certified on the 28th of April 2017 we saw immediate results, and we are very happy we decided to join the network of AA Certified garages.
"Being a certified garage meant that we were the first option listed in search results on the garage guide website and it also helped to increase our customer database. In addition to this, every time a job booked through the AA Garage Guide was completed, the customer received a request to leave a review of the work undertaken, resulting in a five-star rating for Ecotech Auto Services on the site." AA Garage Guide Trade Marketing
Manager, Mima Rybanska, commented: "Ecotech Auto Services is a prime example of a Certified garage: one that understands that its customers are its greatest asset when it comes to retaining and generating new business.
"The garage typifies the qualities that people have come to associate with the AA: trustworthiness, reliability and quality, so it made perfect sense for it to become Certified. It has reaped the rewards that go hand-in- hand with this opportunity, and we're delighted with the positive response that Ecotech has had so far."
---
For further information from
AA Garage Guide, click here
.