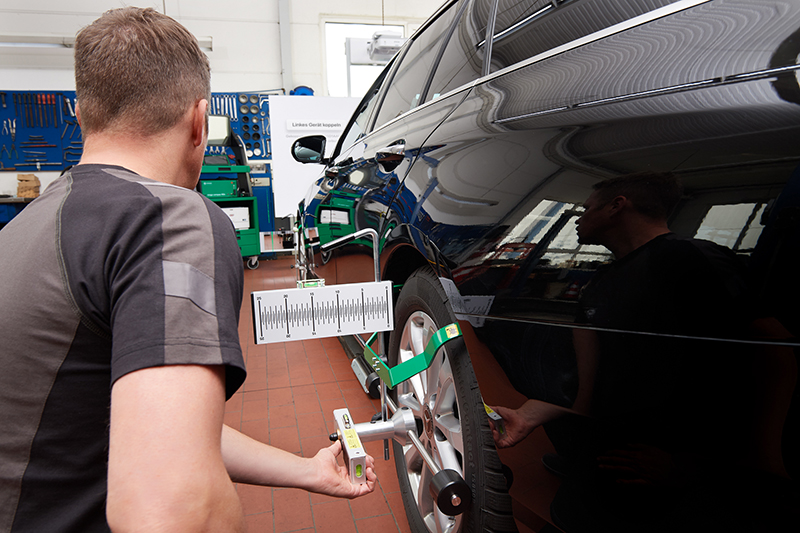 ---
Check out the latest ADAS calibration and diagnostics solutions from Hella Gutmann.
---
Advanced driver assistance systems are now standard features on millions of vehicles, so being able to calibrate the cameras/radars that allow them to function correctly, is vital, both commercially and for driver safety.
The majority of businesses now realise that whenever they undertake work on a vehicle that has a direct effect on its steering geometery – wheel alignment, steering & suspension replacement, etc. – an ADAS camera/radar calibration must be carried out. Therefore, they must supplement their diagnostic equipment with a calibration tool.
"Because the diagnostic device and the calibration tool must be compatible, the investment needs to be well-considered as ultimately, the model coverage of the diagnostic software and the associated calibration device will dictate whether the extent of the calibration work the workshop can undertake, is cost effective," explains Neil Hilton, Head of Hella Gutmann UK.
"This is where Hella Gutmann Solutions' original analogue CSC-Tool SE and CSCMobile, as well as the recently introduced, CSC-Tool Digital, show their advantages."
With outstanding vehicle model coverage, the CSC-Tool, in common with the easily transported CSC-Mobile solution, in conjunction with a Hella Gutmann mega macs diagnostic device, has a proven track record in the UK, Ireland and throughout Europe. It is for good reason that the world's leading auto glass networks rely on the German equipment. In addition to the calibration of front cameras, long-range radar and lidar, the comprehensive modular CSC tool system also allows calibration of 360° and rear cameras, as well as 24 GHz radar sensors for detection in the wider environment, and thanks to its ongoing developments, Hella Gutmann's calibration hardware and software remains close to the vehicle manufacturers' rapid technology advances and short model cycles.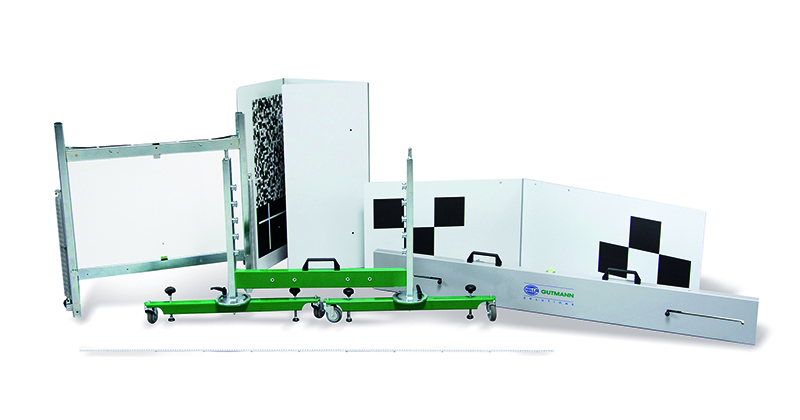 "The CSC-Tool Digital is the latest evolution of the Hella Gutmann calibration offering," Hilton continues. "Everything that is possible with the analogue CSC-Tool SE and CSC-Mobile, also works with the CSCToolDigital, but faster and more efficiently. Furthermore, the digital tool has some additional benefits to offer, for example, there is no need to store and carry around the large format front camera targets. This saves both time and money because currently many different targets are required for the vehicles that are commonly used in the UK and Ireland.
"With three formats of calibration tool available catering for fixed workshop, mobile and digital applications, Hella Gutmann has a unique offering, which truly covers all the bases and provides the tyre replacement sector with the perfect solution for their needs."
New diagnostic offering
The mega macs range of diagnostic tools has a reputation as being amongst the leading devices in the field. But with the recent introduction of mega macs X, the specialist aims to change the operational method and communication with the vehicle from a diagnostic standpoint, providing a flexible solution that can adapt to whatever size of workshop.
The mega macs X provides flexibility and an array of options when it comes to both the hardware and software configurations. It allows individual workshops to choose whether they wish to combine their existing desktop browsers or tablets with the system, or move to a totally mega Macs driven platform. This level of flexibility means that should the workshop's requirements change, then it is able to change the setup to match.
However, it is not only flexible in terms of hardware. Thanks to the different software modules that are available, workshops also have a choice when it comes to the scope of the services that can be accessed. This flexibility ensures that workshops are always able to gear the service level required to the needs of its customers and, should these requirements change, the software module can likewise be altered to make sure it always fulfils the needs of the workshop.
Not only is this system different from previous diagnostic solutions in its approach, it's also very different in appearance, as it has neither a display nor a keypad. At a first glance, the wired OBD plug with integrated LED lighting looks like a modern, neatly designed Bluetooth VCI – which, incidentally, it is – but this future-orientated solution is also the most advanced diagnostic tool they have ever developed. It incorporates the processor, diagnostic software and integrated diagnostic protocols, which includes among others, the CAN FD and DoIP for new vehicle models such as Škoda Octavia, Volvo XC 90 and Golf 8 of Volkswagen, and communicates on a wireless basis.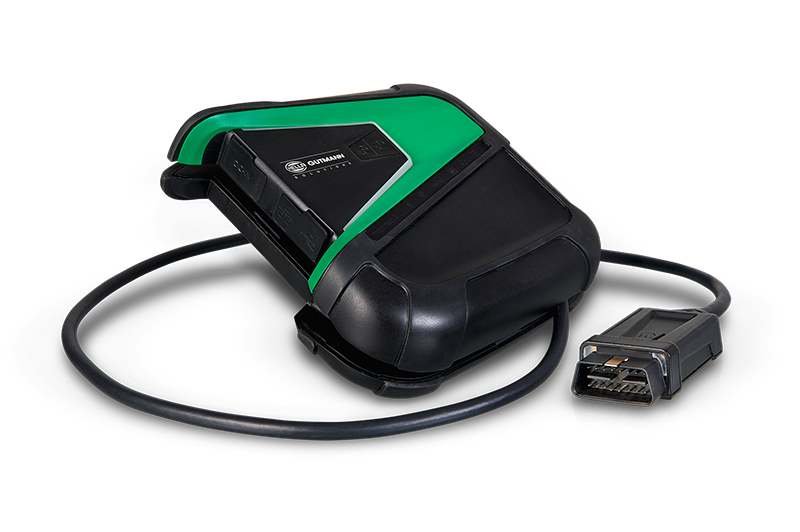 Put to use
The well-thought out design comprises sophisticated details such as useful cable duct and a magnetic surface, for easy and secure fixing and the compact dimensions means it can be placed easily on the charging tray when not in use. A green LED progress bar on the front and back of the device indicates active vehicle communication when performing diagnostic work.
This approach also allows workshops to stay in control of their overheads, as beyond the one-off costs to purchase the mega Macs X hardware and relevant SDI X software, the only ongoing costs are for the associated annual licence, which includes any updates and system improvements as they are issued.
Naturally, as with the other devices in the line-up, the mega macs X is equipped with ADAS calibration software. In addition, however, it also comes with a CSM (Cyber Security Management) function.
There is no need to register individually with each vehicle manufacturer portal to obtain diagnostic releases for their customer's vehicles, subjecting themselves to extensive checks and potentially significant extra costs.
Instead, a one-time authentication, activated by proof of identification by passport or identity card, is all that's needed for a mega macs user to have a clear path to work on all vehicles with a security lock, at the usual diagnostic depth.
---
Want to know more? For more information, click
here
.