---
PMM reports as the Herth+Buss Field Service Van completes its first major countrywide tour.
---
Known throughout the German- speaking world, the Herth+Buss Field Service Van is an eye catcher at every trade fair. The van allows the Workshop Field Service team at Herth+Buss to offer support, especially to workshops, by presenting its range and organising product training directly on site. Consisting of four experts, the team offers workshops real added value, not in a meeting room or at the end of a telephone line, but at the scene of the action – in the workshop.
And now, the company has rolled out the concept in the UK, over a one-month period. Whilst there were very high expectations for the project, there was also some scepticism as to whether the Field Service Van would be well received by workshops in the UK.
On 10th July, the Field Service Van set off on its maiden voyage, manned by Rob Head and Peter Thilthorpe from the Workshop Field Service team. At the very first workshop they called on, they were met with enormous interest, particularly due to the repair solutions from the Elparts range that were on board the vehicle.
Repair solutions such as RepCab, for instance, make it easy to repair damaged cables in the original harness in doors, tailgates and boot lids. Also included were RepCon repair kits, which are used to replace defective plug connections in the vehicle on combination rearlights, glow plugs and sensors. Staff at the workshops were bound to be curious given that, until then, they were only familiar with the Jakoparts range of spares for Asian vehicle models, and the Field Service Van carried products exclusively from the Elparts range for vehicle electrics. It was not only the smart repair solutions that were greeted with positivity, but also crimping pliers, release tools and products for battery management and lighting.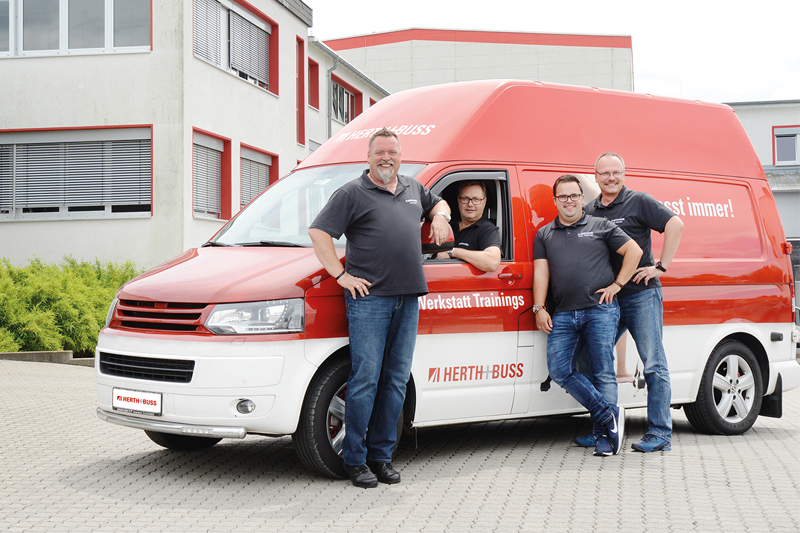 On 15th August, after travelling many miles and visiting workshops along the way, the tour then drew to an end.
All in all, it proved to be a highly successful initial attempt at making contact with workshops in the UK and familiarising them with the extensive range of Elparts available from Herth+Buss. It has also significantly reinforced the impression that the challenges and problems faced by workshops on a daily basis are virtually identical, irrespective of country.
Further tours are now planned for the UK, so keep your eyes peeled!
---
For more information about the products that can be found on the Field Service Van,
click here.