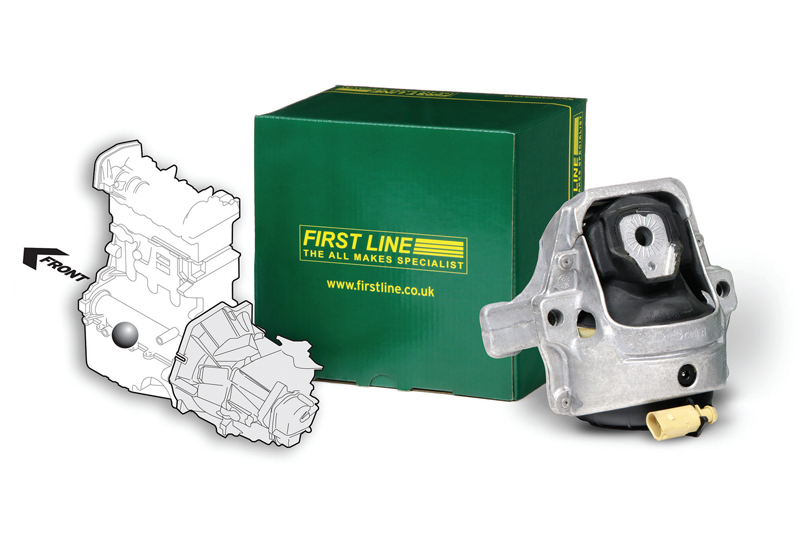 ---
The technical department at First Line has received a number of enquiries regarding the replacement of vehicle torque mounts, and on more than one occasion there has been some confusion over the name of this part. Here, the company hopes to clarify the role of the component and the many names used to define it.
---
Engine mounts play a vital role in securing the engine to the chassis and absorbing the vibrations from the engine. Torque mounts are typically located at the rear of the engine, particularly on front wheel drive transverse engines, and are designed to control engine movement generated whilst driving. Therefore, they are under constant stress, especially on vehicles with stop-start technology or increased torque that is commonly found with smaller modern turbo engines.
As a supplier of replacement mounts and bushes, First Line has found that many original equipment designs fail prematurely, resulting in an increase in popularity of several references, particularly the following six:
Nissan Qashqai (2007-2014) – FEM4116
Vauxhall/Opel Vivaro, Renault Trafic, Nissan Primastar (2003-2015) – FEM4112
Ford Focus I, Tourneo Connect, Transit Connect (1998-2013) – FEM3564
Alfa Romeo MiTo, Fiat Grande Punto, Punto Evo, Vauxhall/Opel Adam, Corsa (2006-present) – FEM3951
PSA C2, C3, DS3, 1007, 2008, 207 (2002-2017) – FEM3831
Ford Mondeo (2000-2007) – FEM4164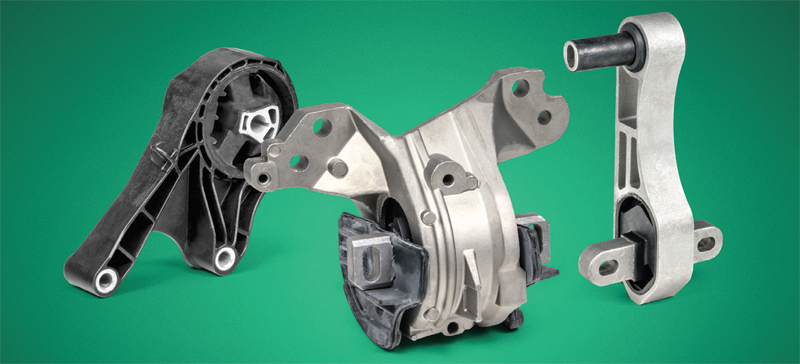 However, when it comes to identifying these components, technicians can find it confusing, as torque mounts are referred to by so many alternative names. First Line has highlighted the most popular:
Torque restrictor
Stabiliser bar
Torque rod
Engine mounting
Engine support
Anti-torque link
Rod supper
Dog bone
It is important for technicians to keep up to date with the different names that these components have, as a misunderstanding can lead to the supply of the incorrect part or a technician trying to resolve a problem in the wrong area of the engine.
Available range
First Line offers a comprehensive range of more than 900 rubber and hydraulic engine mountings, with the company continually adding more references to accommodate demand. These include new model applications, as well as developing technology, such as the latest design of electronically controlled hydro mountings.
---
To find out more about First Line's range of engine mountings, click
here
.