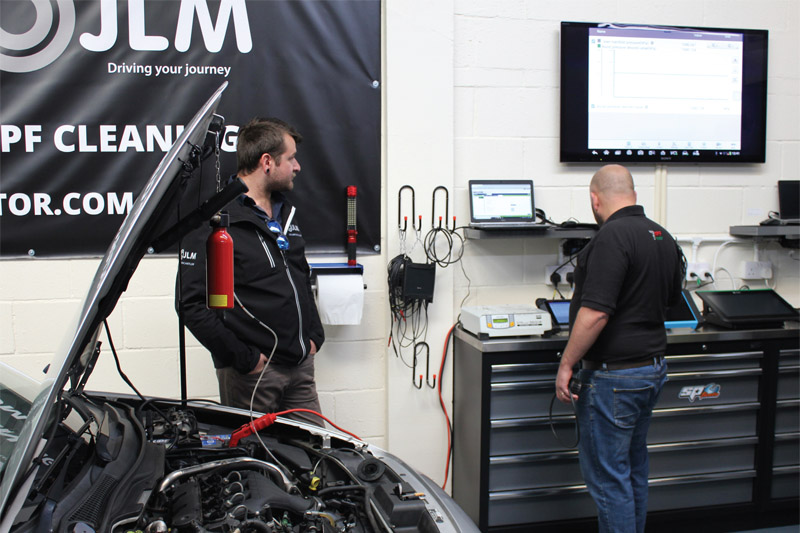 ---
PMM

finds out from Darren Darling, The DPF Doctor, why the diagnostics process is at the centre of emissions-related vehicle issues.
---
As many readers will know, Darren Darling heads up The DPF Doctor Network, a group of independent garages that specialise in solving emissions-related vehicle issues. To join the network, a garage must meet a certain standard and be willing to adopt new practices in order to provide the high level of service expected of them. One such practice is the correct diagnostics procedure required to identify the root cause of a vehicle fault, rather than the exhibiting symptom.
Where does diagnostics fit in?
In Darren's own words: "Everything revolves around diagnostics. The best way to describe it is to view the diagnostics process as a wide-angle lens. You need to look at everything. For example, when investigating a blocked DPF, you need to consider that this component is a self-cleaning filter. If the system was working as it was designed to, you should not need to clean it. What you have identified is a symptom of the problem; not the problem itself.
"In my opinion, you need to have some kind of diagnostics background to be an emissions specialist. Anything upstream in the engine bay will have an effect on the last link in the chain: the DPF."
The nature of emissions systems, and vehicle technology as a whole, has evolved beyond the days of simply plugging in a machine, reading a fault code, replacing the faulty component, and then clearing the fault code. Diagnostics now requires an investigative mindset to uncover what is truly causing issues for a particular vehicle. If the epicentre of the problem isn't identified, all that will happen is that the customer will come back with the same complaint a few months down the line.
The network's approach
As part of The DPF Doctor Network, all technicians that join up receive advice on proper diagnostics process. Darren explained, "All our technicians systematically work through a series of checks taught to them through our training programme.
"Rather than looking purely at fault codes, we ask questions like: Is this component working within the parameters that we might expect? Take the EGR valve as an example. It is a component that causes headaches for technicians, as it is often misdiagnosed. The component could quite easily be functioning incorrectly with no fault code exhibiting, which means it is not enough to fix the vehicle. At this point, we need to use that wide-angle lens I mentioned earlier."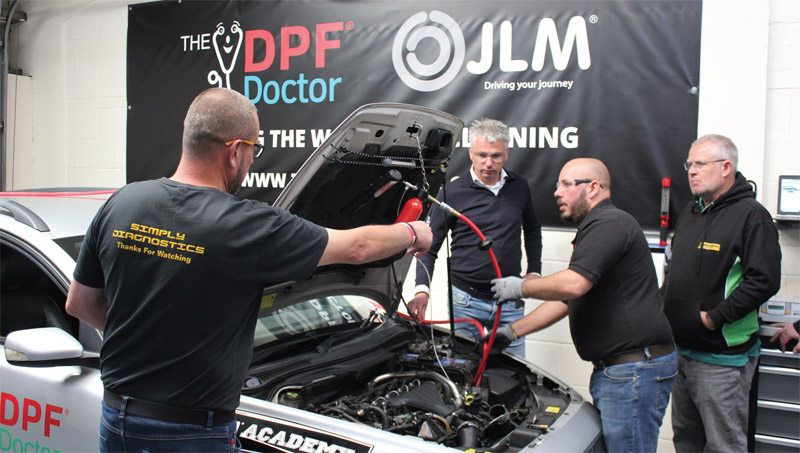 Communicate with the customer
It's one thing to learn how to approach an emissions-related issue through a diagnostic process, it's another thing entirely to try and explain to the customer what you are doing.
Often the network sees vehicles that have already been looked at by another garage, so how do you explain to an already disgruntled customer that you need to start from scratch?
When asked this question, Darren commented, "What I have found in my years of solving DPF problems is that customers often don't understand why I need to carry out various diagnostics processes. It's an almost daily hurdle for me, and I have found the best way to explain is to keep it simple. Use language that people can understand and relate to.
"Why not briefly explain to them what a fault code is, and why simply identifying them is not a complete solution? For example, not long ago I had a vehicle come in that was exhibiting a mass air flow fault. Except, the issue wasn't with mass air flow. The sensor was picking up a problem, but it clearly wasn't the problem. So, I booked it in for a diagnostic assessment, and it turned out that there was a boost leak in the vehicle, which was subsequently affecting the mass air flow.
"It's in your interest to ensure that the customer knows what is going on with their vehicle, so, in this case, I explained in simple terms why their car now had to undergo a diagnostic assessment. A customer is rarely understanding after the first explanation, but eventually they will come around if you get rid of the jargon."
Expert advice is readily available
Before a garage gets down to the details of diagnostics, Darren explained that this is not something that can simply be learnt from a book. It is worthwhile for businesses to use the wealth of expertise that exists within the aftermarket in order to give them the best start possible.
"Of course, The DPF Doctor Network has its own training events that members can come along to," explained Darren. "These tend to focus on emissions issues, and how to treat them. We are privileged to be supported by JLM Lubricants, so much of the course involves the company's vehicle treatment formulas. However, as I have explained, diagnostics has a crucial part to play in our approach as well, and, as a result, we have a number of training partners.
"In the UK, we have some incredibly talented diagnosticians. James Dillon, Frank Massey, The SimplyDiag Network, as well as online platforms like Our Virtual Academy, all provide exceptional levels of insight that technicians should use and take advantage of. With the rate of technological development going on in our industry, we need to make sure we are up to standard with anything that comes our way. Help is on the doorstep; garages just need to welcome it."
DPF Doctor Top Tip
When confronted with an impenetrable wall of vehicle data, do you back yourself to identify the problem? If you don't, fear not! You are not alone. One easy way to build your confidence is to study the data produced by a fully functional vehicle.
After all, if you don't know what is good, how exactly do you expect to identify the bad? Take some time to run tests on vehicles that you know work, and that way, when a fault does present itself, you are more likely to spot the orange amongst the apples!
---
To find out more about the DPF Doctor Network, click
here
.