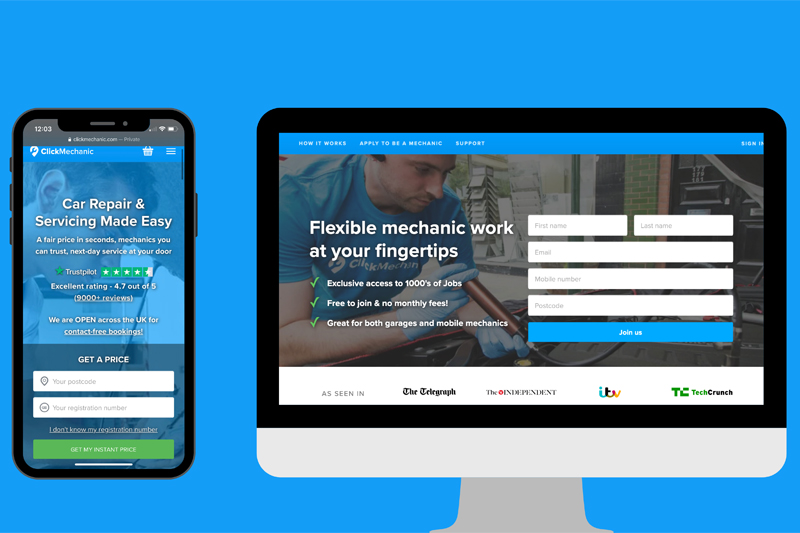 ---
Louanne Dias, Marketing Executive, ClickMechanic, tells PMM how the service handles problems coming in from customers and how their in-house technicians make sure complex issues are properly diagnosed.
---
PMM: Can you outline how the ClickMechanic process works from a vehicle owner's point of view?
Louanne Dias (LD): ClickMechanic connects customers looking for car repairs and servicing to the best mobile mechanics and garages across the UK.
First, the customer tells us the car registration and postcode. We use this information to work out how long the requested job should take on the specific car, multiply it by the local labour rate in the area, and then add on parts costs. The tech we've developed provides the customer (and the mechanic) with the most accurate quote based on the millions of data points that we've licensed.
PMM: Although many tasks performed by a workshop technician are easily standardised, there will always be certain tasks which pose a challenge. What measures have been put in place to deal with more complex issues a car might have?
LD: ClickMechanic is a booking platform that helps connect customers with car problems to the highly qualified and vetted mechanics on the network. We appreciate the fact that due to the complexity of car repairs there can be instances where the customer is unable to identify car problems. This led to the inception of the Mechanic-in-Residence team. They provide free no-obligation consultations to customers and use their skills and experience to diagnose problems with the vehicle in question. The mechanics interact with customers and use their expertise in car repair despite not being based in a workshop. This has been a valuable platform for both mechanics and customers on the network.
By discussing the issues customers are experiencing on their vehicles, the majority of faults can be detected or at the very least narrowed down. However, on the rare occasion that a diagnosis over the phone or email is not possible, the in-house mechanics will suggest booking an in-person diagnostic inspection with a diagnostic professional on the network.
PMM: How do you recruit in-house technicians? What experience /qualification do they need to have?
LD: When recruiting technicians for our Mechanic-in-Residence team, the most important requirement is having extensive experience in vehicle repair and diagnostics across makes and models, along with good customer empathy and the ability to translate complex technical issues to customers in a clear and simple manner. The in-house technician team currently includes car repair experts with over 80 years of combined experience!
PMM: Once a job has been picked up by a workshop, is there a chance for a workshop to alter its estimate. For instance, if a customer misdiagnoses their car's problem or the problem turns out to be harder than anticipated?
LD: We use industry-standard labour times and parts prices to build quotes. Mechanics, however, would be able to suggest an updated quote in certain cases. For example when the customer has misdiagnosed the problem on their car or booked the wrong job. In these cases, we would of course expect the mechanic to ask the customer whether they'd like to go ahead with the updated quote before carrying out any work.
PMM: By signing up to ClickMechanic, how will a workshop benefit?
LD: When a mechanic or garage signs up to ClickMechanic, they have access to a free account with access to bookings, which allows them to take on extra jobs to fill in their diaries. It's 100% free to join, the mechanic only pays a commission on the bookings they complete.
A further advantage for mobile mechanics and workshops on the network is that they have access to trade discounts, through which they can end up saving thousands of pounds each year.
Overall, mechanics have come to appreciate that taking bookings through our service is a hassle-free way to find new customers and boost revenue. We manage everything from quoting, customer service, to payments so they are freed up to do what they love to do – car repairs!
---
Want to know more? For more information, click
here
.